By Lou "Cinder" Block
The return of Floyd "Money" Mayweather Jr. or shall I say the PPV King and pound for pound King?  There is no question now who the top dog is in the sport of boxing. I have been getting sick of the hype about a little Filipino named Manny being the top dog, all I can do is laugh at that gesture. Pacquiao is nowhere near the level of Floyd Mayweather Jr., Pacman has no charisma or charm, he does not have the mainstream appeal, he does not have what it takes to be a star in boxing and to top it off he is not on the same level of skill as the Money Man himself. Many Floyd haters were saying "Floyd Jr. is a Fraud he is not the A side it was Hatton and Oscar who carried those PPV numbers" or "Floyd Mayweather Jr. fight is going to tank he has no fans" well I guess many people have to eat crow after the Mayweather vs. Marquez fight reaching 1 million pay per view buys. I can already see the excuses now "Oh that is cause all the Mexicans ordered that fight to support Marquez that is why the fight did big numbers" oh yeah? before this fight many people including UFC President Dana White were saying  "Marquez is not a draw no one wants to see that fight" well apparently 1 million people did want to see that fight.
Now let us move onto the fight, what a night it was we witnessed greatness before our very eyes, Floyd Jr. is the greatest of our era  and maybe if he keeps boxing the way he does he can be the greatest of all time. When I watch Mayweather Jr. box it reminds me of the Matrix, just so slick, so scientific, almost like he can see the punch and tell what punch you are gonna throw and avoid that punch.
Manny Pacquiao who people claim is the pound for pound best has many losses, has been knocked out before to body shots, and arguably lost 2 fights with Juan Manuel Marquez,  the man Floyd Jr. demolished. When Pacquiao fought Marquez he was given a gift draw and a gift decision against Marquez. Pacquiao went tooth and nail with Marquez and was getting countered with ease, while Floyd Mayweather Jr. schooled the man who many say is one of the best counter punchers in the sport.
Here are two gif image examples below to show the difference in skill between Pacman and Floyd Jr. This is a side by side of them versus a common opponent in Marquez (again Marquez was Pacman's toughest foe)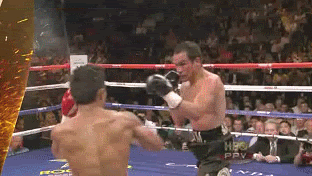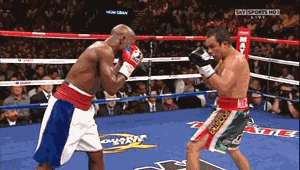 The King is back and  if  that little Pacquiao they call Pacman wants it he can get it too!  I don't see Pacquiao getting past Miguel Cotto anyway. Floyd will take care of just about anyone including Berto,Cotto  and as for Mosley he just wants a  big paycheck to retire on.
Discuss this topic  in the Now Boxing Forum
____________________________________
Got an opinion want to share it with others? Submit Your Article to Nowboxing.com