By Warren Cloud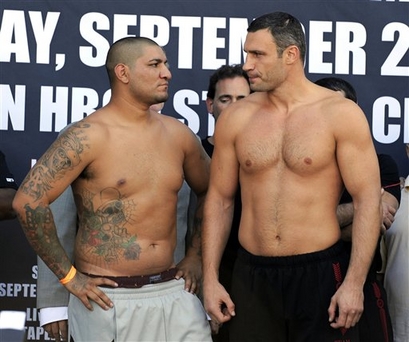 This Saturday, #1 ranked WBC contender Chris Arreola is scheduled challenge Vitali Klitschko for the heavy weight championship of the world in Arreola's home state of California. This will by far be the most important fight of Arreola's career and certainly his most challenging. Arreola has made it clear that he is confident he will defeat Klitschko and forever and go down in history as the first Mexican-American heavyweight champion. Arreola also says he will unify the heavy weight belts; a feat hasn't occurred in many years, due to political reasons involving various alphabet boxing associations.
Arreola has been able to maintain his undefeated record of 27-0 with 24 knockouts, partially due to the mediocre opposition he has faced so far. Despite being a heavy favorite, Vitali Klitschko has been training harder than ever, and handpicked sparring partners with similar styles to Arreola. Arreola has many obstacles to overcome if he truly plans to defeat Klitschko. Klitschko is in excellent shape, and like his brother, packs a devastating jab. Despite Arreola's height of 6' 4", Klitschko seems to tower over Arreola when both fighters stand side by side or face to face.
If rumors that Arreola prefers drinking beer and going to strip clubs over training and watching his diet, then it will be obvious that his heart and devotion are not primarily dedicated to boxing. Arreola has reported that his goal is to weigh in at 245 pounds by the day the two boxers officially weigh in, a feat that will be extremely difficult for Arreola to accomplish in such a short period of time. In several interviews, Arreola has promised to make Mexican-Americans and his fellow Californians proud. This Saturday night, we will see if he holds true to his promise.
____________________________________
Submit Your Article to Nowboxing.com