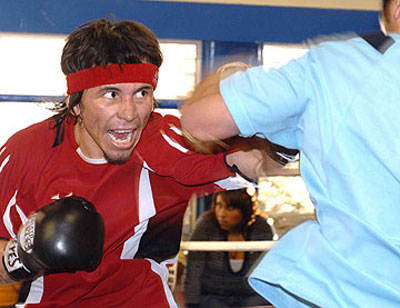 By Jorge Conejo
In 2003, Mexican legend Marco Antonio Barrera gave an unknown man from the Philippines a chance at his Ring Magazine featherweight title.  That unknown man became one of boxing's most legendary warriors and a future all time great, his name is Manny "Pacman" Pacquiao.
Could knockout sensation Edwin Valero given the same opportunity pull off the of upset over Pacquiao?
If you are reading this and have no clue who Edwin Valero is, just hit up youtube and you will find many of his fights online.  After you check out some of his fights on youtube, you will be in awe of how exciting and ferocious this guy is.
Edwin Valero is undefeated, with a record of 25-0-25 ko's, all 25 of his victories are by ko.  The first 18 of his 25 knockouts came in the first round.
I am one of the few who believe that Edwin Valero, the Venezuelan bomber, would have the stuff to beat Manny Pacquiao.  Valero is a southpaw, chiseled and muscular just like Pacman, and he is a devastating knock out puncher whom I believe has more power in his hands than Manny.
The fight would be an all out war, unlike other fighters who faced Pacman, Valero will not take a backwards step or go on his bike, he would pressure Manny no matter how badly he gets hit.  Just like Manny, Edwin Valero fights even harder when he gets hit.
There is a roadblock though, Valero is not sanctioned medically to fight in Nevada or anywhere else in the United States besides Texas because he has been denied medical clearance.
On February 5, 2001 in Venezuela, Valero was involved in a motorcycle accident, he was not wearing a helmet and suffered severe brain trauma.  He immediately had to undergo surgery to remove a blood clot from his brain caused by the accident.
Valero was cleared to fight in 2002 by his Venezuelan doctor.  In 2004 he was signed to Goldenboy promotions, but he was denied the right to fight in the United States after failing a mandatory MRI brain scan in New York.
Even though he was denied license to fight in the USA, Valero continued to box outside of the States mainly in Japan and his home of Venezuela.  In 2006, Valero won the WBA superfeatherweight title in Panama against Vicente Mosquera.  In that same year, talks of a possible Pacquiao vs. Valero superfeatherweight showdown buzzed through the boxing message boards, but the fight never materialized.
Before Manny Pacquiao retires he should give Valero that same opportunity that Barrera gave him in 2003.  The fight could happen, since Edwin Valero is apart of  Bob Arum's Top Rank promotions, the same promotional company that promotes Manny Pacquiao.
Valero could help carry the sport of boxing when Pacquiao retires, he has the same qualities Manny has, they both are aggressive, hungry, action packed, southpaw power punchers who always put on the most exciting fights.
I see in Edwin Valero today what I saw in Manny Pacquiao back in 2003, a future star in the making.
Discuss this and other boxing events in the Now Boxing Forum (membership is FREE)
(Please refrain from leaving any Vulgar, Racist comments or they will be removed, Thank You)
Submit Your Article to Nowboxing.com