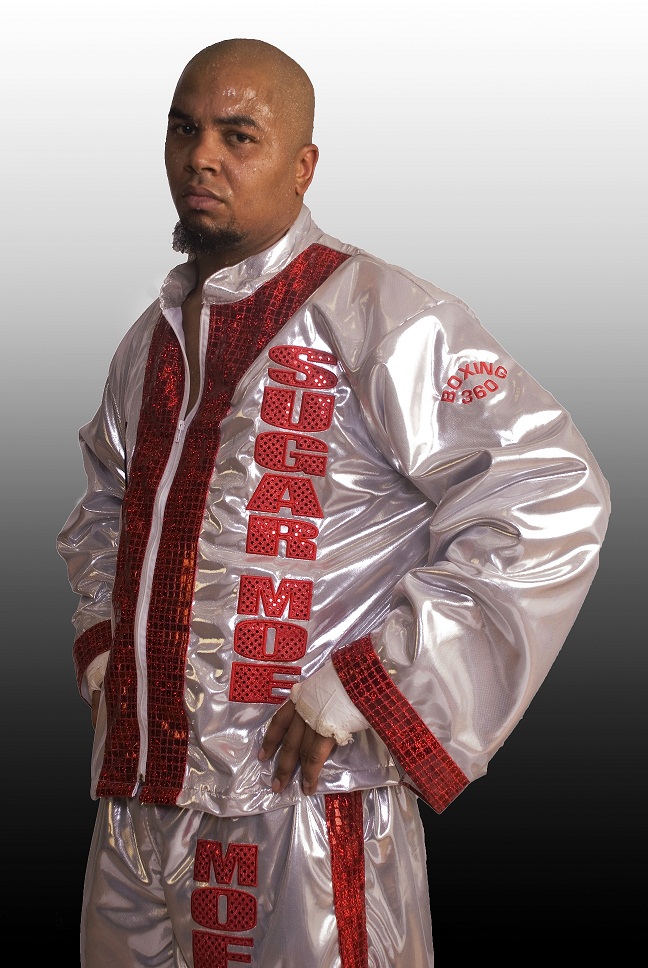 (Photo credit: Robert Allen/Boxing 360)
NEW YORK (Jan. 11, 2010) – New Jersey heavyweight Maurice"Sugar Moe" Harris, winner of the 2002 'Thunderbox Heavyweight Tournament," fighting January 29 for the first time in more than two years, against veteran Billy "The Kid" Zumbrun in Albuquerque.
The 33-year-old Harris (20-14-2, 10 KOs) is genuine, no hype, and the often mismanaged fighter plans to get back into the heavyweight title picture with his new promoter, Boxing 360. He's beaten some of the best, lost to inferior opponents on several occasions, and overall has failed to live-up to his physical potential.
The primary reason for his record is he turned pro at 17 with only nine amateur fights behind him, losing a 4-round decision to Joe Kenna in 1992, and then Maurice was soon thrown to the wolves. "I've had an up-and-down career," Harris explained. "I was hanging (at the gym) with pros like Al 'Ice' Cole and Ray Mercer and decided to join them as a pro when I was only 17, not realizing I didn't have the valuable experience gained from boxing in amateur tournaments. But I was a hungry kid from the projects who wanted a way out. I was thrown-in tough early, in way over my head because I didn't have any real experience. I didn't even know how to tie-up or battle fatigue, leaving me tired during fights."
Harris lost three of his first five fights and was 5-4-2 midway through 1994, including a draw against Zuri Lawrence, who was making his pro debut. Back-to-back losses by knockouts to world title challengers Vaughn Beam and Dale Brown followed, but Harris bounced back strong with a win by 8-round decision versus David Izon to start 1996. When Harris stopped 32-7 Jimmy Thunder in the seventh round of their 1997 fight, it set the stage for Maurice to take on come-backing former world champion Larry Holmes, who won a 10-round split decision that most observers felt Maurice should have been awarded.
The resilient Harris, however, reeled-off seven straight victories, including a 10-round decision against world title challenger Jeremy Williams in 1999. "I didn't really get the experience I needed until later, when I started sparring with Lennox Lewis and Mike Tyson," Harris noted. "That experience gave me confidence to beat the top guys, but I was still taking fights on short notice. I beat Williams on 5-days notice."
Harris lost to Derrick Jefferson in one of 1999's best and most entertaining fights of the year, but he then became more inactive from that point on, winning his only two fights in 2000, and losing his 2001 showdowns to former and future world
champions, Chris Byrd and Henry Akinwande.
In 2002, Harris knocked out previously unbeaten and future world title-holder Sergey Lyakhovich (16-0) in the ninth round. Harris earned a spot in that November's "Thunderbox" tournament, eventually capturing the $100,000 winner's purse by out-pointing Gerald Nobles, Israel Garcia and Anthony Thompson, respectively, in 3-round matches in the same
evening.
Harris has fought only four times in the last six years, his last more than two years ago, but now he will be much more active fighting under the Boxing 360 promotional banner. "I signed with Don King and he left me on the shelf," Harris remarked. "I'm climbing back now. I had trouble getting fights because everybody in boxing knew I could fight but I wasn't always in proper shape and didn't do my homework. Now, I'm a young but an experienced 33. I haven't been beaten up. I had a lot of
gaps in my career and now I have a promoter pushing me for the first time, Boxing 360. I'm preserved and my instincts are still good. I'm going to get out there and prove it, starting January 29 against Zumbrun. I am not losing that (6-round) fight.
"The heavyweight division is wide open. Kevin Johnson talked his way into a world title fight and he got exposed. That's what set a fire under my butt. There are a lot of fakers. Too many promoters, managers and trainers protect their fighters. Nobody wants to fight; it's not like in the 80's or back in the 50's and 60's, when everybody fought each other because they were competitors. A loss shouldn't setback a fighter for years. Today, I'm older, wiser and my experience is my greatest
advantage. I'm ready. I'm 6-4 and weigh 245; I'm going to really crack this guy January 29th.I'm going to bring something new that people haven't seen from me. Look out heavyweights, I'm coming for you."
Discuss this and other boxing events in the Now Boxing Forum (membership is FREE)