Fayetteville, Georgia – Evander Holyfield, best known for his victories over Mike Tyson, has recently been exposed as an abusive husband by his 30-year old wife Candi Holyfield.
Candi Holyfield, filed and obtained a temporary protective order against him on February 3 because of a domestic altercation the couple had on February 1, 2010 when Evander hit her over an argument about church donations.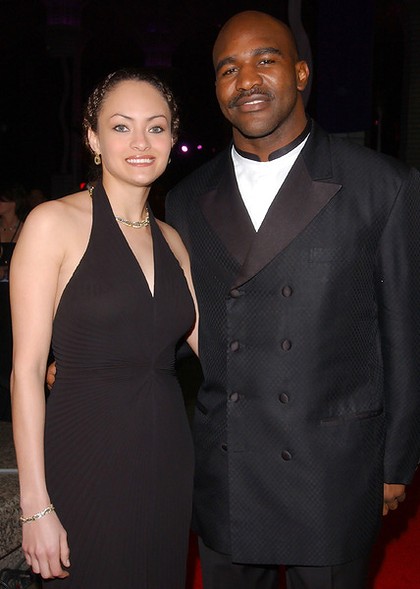 (Photo of Candi and Evander together at an event Photo: Getty Images)
"He said that I was being disrespectful, he started telling me that I needed to start putting God first in my life." Candi Holyfield said in the court filing.
A  judge signed a temporary order on Feb. 3 forbidding Evander Holyfield from being within 500 yards of his wife and their two children, a 5-year-old girl and 6-year-old boy.
The Holyfield's have a court hearing scheduled for February 18, 2010.
This is not the first time Holyfield abused his wife, Candi claims he abused her six months after they married in July 1, 2003, she said it was mostly emotional abuse but turned more physical later on.
She claimed her husband choked her in front of their daughter and their housekeeper in 2008, in 2009 he hit and grabbed her in front of their kids and a  couple weeks ago, Candi said, Evander threw a bottle of water at her.
Despite all of the abuse Candi claimed to have endured, she still loves her husband and considers him a great man and father to their children.
"Our current situation should in no way be considered a reflection of his character. I have been with this man for nine years and will be the first to say that he has many qualities and characteristics that I admire and respect," Candi said.
Post your Comments in the Now Boxing Forum (membership is FREE)