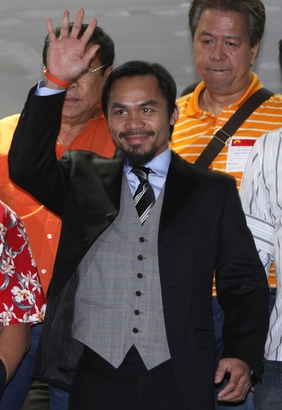 Manny Pacquiao arrives in Manilla to celebrate his victory over Joshua Clottey(AP Photo)
Manny Pacquiao is back home in the Philippines, and is ready to begin his political campaign for the May 10, 2010 congressional election, but Pacquiao is not ruling out boxing completely in favor of a political career.
Pacquiao is still interested in a super fight with Floyd Mayweather Jr.
"I came this far in my boxing career without Mayweather, so I see no need to call him out," Pacquiao told reporters in Manila on Monday. "He needs me to bolster his career."
"I am open to him (Mayweather) fighting me anytime he wants to."
The Manny Pacquiao vs. Floyd Mayweather Jr.  Super-fight fell through because of a disagreement over random blood testing cut off dates. Pacquiao wanted the cut-off date for Olympic drug testing to be 24 days before the fight, Mayweather insisted on a 14-day cut-off date.
Both fighters moved on. Pacquiao fought Joshua Clottey at Dallas Cowboys Stadium on March 13, and beat Clottey by unanimous decision in front of 50,944 people. Mayweather Jr. is set to take on Sugar Shane Mosley on May 1 at MGM grand hotel and casino.
Got an Opinion? Submit Your Article to be posted on Nowboxing.com
(Please refrain from leaving any Vulgar, Racist comments or they will be removed, Thank You)
JOIN the Now Boxing Forum (membership is FREE)