By Freddy Fresco
Manny Pacquiao only likes to fight one way, he doesn't run and jab to win on points, he loves to brawl and go toe to toe.
Any man who brawls or likes to finish fights is not scared to fight another man in the ring. If Pacman had an unblemished record, was a defensive fighter who was very passive, and was content on running, and winning on points I would agree, but Pacquiao has losses and never backs down from a brawl even if it means him getting knocked out.
Pacquiao doesn't fear anyone in his weight class, his promoters and handlers are another story, many times promoters try to protect their fighters from a style match up that is bad for them. Bob Arum doesn't fear Pacquiao fighting Mayweather Jr., he probably thinks the fight will be boring due to Floyd's fighting style.
Bob Arum and Freddie Roach didn't allow Manny Pacquiao to fight Antonio Margarito and Shane Mosley, when Pacquiao even begged Roach to make those fights.
JOIN the Now Boxing Forum (membership is FREE)
Does this mean Manny Pacquiao is a ducker or scared and trembling of those guys? NO.
I call this; "smart handling". Sometimes Pacquiao's "Balls" over rule his brain. Pacquiao just wants to fight, you could put him in there with Heavyweight, Nikolai Valuev (Pictured below), and he would still come forward.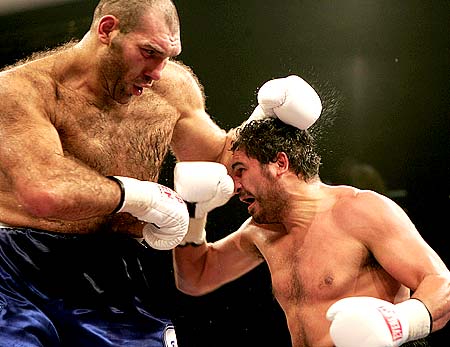 (Photo of Nikolai Valuev vs. John Ruiz)
Pacman's willingness to put on exciting fights and please the fans is his main priority in the ring, he doesn't care about being hit or knocked out, because he knows real fight fans will love him regardless. This is why Arturo Gatti, who had many losses was loved by the fans, because he fought his heart out "Blood and Guts" Gatti wouldn't quit, and fans appreciated that.
Every time a person says Pacquiao is scared to fight Mayweather Jr., I laugh uncontrollably, If there was a guy in boxing who has ducked opponents in the recent years it was Floyd "Money Hungry" Mayweather.
The guy was forced to fight Shane Mosley, he didn't want to fight Mosley, but since the Pacquiao fight fell through he had no choice.
Yeah, when Floyd Mayweather Jr. was a up and coming fighter at lightweight he was calling out Shane Mosley, he had no choice back then either, because Mayweather had no name and wanted to fight some of the bigger names to get a name.
Pacquiao and Mayewather Jr. are both on the top.  The difference is Pacquiao still wants to fight tough, dangerous guys to test his skill, while Floyd Mayweather Jr. is picking and choosing the fights that will make him the most money but he knows he can win with little risk.
His other options were Nate Campbell, Ricky Hatton's younger brother Matthew, and Paulie "Pacquiao Hater" Malignaggi, none of those fights would draw big enough money to satisfy Floyd.
Floyd Mayweather Jr. is doing it again, he is promising people fireworks only to deliver duds, we all know he will pot shot and fight Mosley like he did Carlos Baldomir and Oscar De La Hoya.  Floyd will just cover up in his shell throw a few sneak punches but remain defensive never leaving himself open to an exchange.
Some call this smart fighting, I don't, I call it fighting safe.
Pernell "Sweet Pea" Whitaker (Watch video of Whitaker below) was a smart, slick, defensive fighter, but he opened up a lot and took chances and threw punches. Pernell was exciting, Mayweather is not.
Another exciting defensive fighter was Nicolino Locche (Watch video of Locche below) who is way slicker than Floyd Mayweather Jr. and funner to watch, he would toy with guys and even though he didn't have power he was a joy to watch.
Why would Manny Pacquiao fear a guy who won't go toe to toe with him, back peddle, pot shot and cover up all fight? I don't know about you, but if I was a fighter, I would be more nervous to face a guy like Manny Pacquiao than Floyd Mayweather Jr.
Got an Opinion? Submit Your Article to be posted on Nowboxing.com
(Please refrain from leaving any Vulgar, Racist comments or they will be removed, Thank You)
JOIN the Now Boxing Forum (membership is FREE)