By Carlos Young de San Felipe
Many articles have been written in recent weeks regarding the abilities of Shane Mosley and Floyd Mayweather, the two combatants in the upcoming Mega-Fight at the MGM casino in Las Vegas dubbed "Who R U Pickin?" Most of the articles that were pro Mosley centered on Shane's competition vs. Mayweather's competition and what appears to be a pattern of selective match making on the part Floyd Mayweather. The point being that Shane has fought bigger opponents and had tougher fights while Floyd just fights little guys that pose no threat to him or his perfect record but its all mute now as the two fighters will meet tomorrow night at the MGM to settle a long standing question of who's the best fighter. Shane has promised a knockout while Mayweather has promised a win.
Its widely known that Shane has demonstrated more punching power over his career than Mayweather has and if Shane's last fight is any indication that his punching ability is alive and well as he dominated and then knocked out Antonio Margarito one of the tough guys in the division and a fighter that Mayweather outright ducked, for the lack of a better term. By all accounts it appears as if Shane will walk right through Floyd on his way to either a knockout or easy win. But if you look closer at Shane's recent fights, the Margarito fight aside you have to ask is there anymore Sugar left in the Sugar Bowl?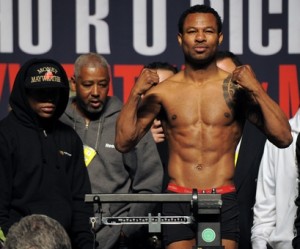 Is there any Sugar left in the Sugar Bowl, I asked myself over and over and after watching the HBO episodes of 24/7 I came to the conclusion that there is very little Sugar left in the Shane Mosley's Sugar bowl. I watched Shane workout and he looks great. I watched him hit the pads and he looks great. I watched Shane work the heavy bag and he looks great. I watched Shane hitting the crazy bag with Nazeem flicking that towel and he looks great. I saw Shane's sparring partners and they looked great and that's when I realized that there is little sugar left in Shane's Sugar Bowl. Shane's sparring partners look great, not a black eye between the two, not a swollen lip, not a bruise and they are nobodies in the boxing game. Nobodies! That is brow raising to say the least and brings into question whether or not Shane can be effectively aggressive against Mayweather. I began to realize that we may have seen the best of Shane. I don't know for the life of me where Shane will get what he needs to beat-up Floyd Mayweather if he can't beat-up his sparring partners.
The conclusion I have come to is that Sugar Shane Mosley has become Shane Mosley and no more will he be Sugar Shane Mosley.
Got an Opinion? Submit Your Article to be posted on Nowboxing.com
JOIN the NOW BOXING FORUM to discuss this and other boxing news topics (membership is FREE)