The HBO main event fighters, Floyd Mayweather Jr. and Sugar Shane Mosley, in front of a jam packed crowd at Friday's weigh-in, looked in top condition as they entered the weigh-in for their May 1st welterweight showdown at the MGM Grand, Las Vegas.
First on the scale was Sugar Shane Mosley of Pomona, California who weighed in at the welterweight limit of 147 pounds, right on the dot.


(Photo by Jed Jacobsohn/Getty Images)
Next up was the Pay-Per-View king, and ever confident Floyd "Money" Mayweather of Grand Rapids, Michigan, and he weighed in at 146-pounds, just a pound under the welterweight limit.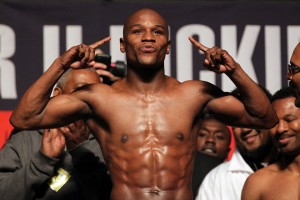 (Photo by Jed Jacobsohn/Getty Images)
After the weigh-in the two combatants pose for a stare down, both ready to go for Saturday, May 1st.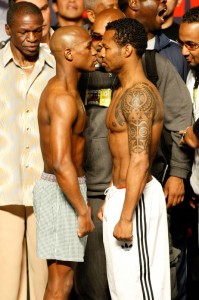 (Photo by Ethan Miller/Getty Images)
Weigh-In Video for Mayweather vs. Mosley brought to you by Yahoo! sports

Watch the final installment of HBO 24/7 Mayweather/Mosley tonight Friday, April 30 at 8:30 pm PT on HBO.
The Emmy award winning series HBO 24/7 has featured boxers; Joe Calzaghe, Ricky Hatton, Manny Pacquiao, Juan Manuel Marquez, Miguel Cotto, Oscar De La Hoya, Roy Jones Jr.
Got an Opinion? Submit Your Article to be posted on Nowboxing.com
JOIN the NOW BOXING FORUM to discuss this and other boxing news topics (membership is FREE)