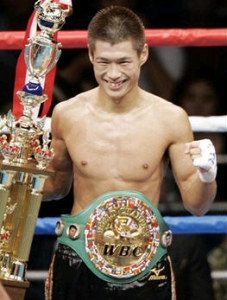 Exciting Japanese fighter Hozumi Hasegawa (28-2, 12 KOs) will defend his WBC bantamweight title against  WBO bantamweight champion Fernando Montiel (40-2-2, 30 KOs) of Mexico on Friday April, 30 at Nihon Budokan, Tokyo, Japan. Both fighters made the 118-pound bantamweight limit for the fight. Hozumi Hasegawa weighed in at 117.75 lbs and Fernando Montiel weighed in at the limit 118 lbs.
Hasegawa Vs. Montiel is a fight that is flying under the radar and not getting as much attention compared to the May 1, Floyd Mayweather Jr. Vs. Shane Mosley HBO Pay-per-view. The match up is just as credible as Mayweather Vs. Mosley because you have Hasegawa and Montiel the two best bantamweights (118-pounds) in the world fighting each other.
The Japanese southpaw, Hasegawa, is considered one of the best Asian fighters right below Manny Pacquiao of the Philippines. Montiel is one of the few current dominant Mexican boxers left and many believe will give Hasegawa his toughest test yet.
Although, both fighters hold a title, The Japanese boxing commission doesn't recognize the WBO sanctioning body, so Fernando Montiel's WBO belt will not be on the line, but Hasegawa's WBC title belt will. The fight will be shown on delayed broadcast on Spanish television station TV Azteca.

Got an Opinion? Submit Your Article to be posted on Nowboxing.com
JOIN the NOW BOXING FORUM to discuss this and other boxing news topics (membership is FREE)