Wilfredo Vazquez, Jr.: "We are prepared to defend the title and look good to my people. That's what we intend to do – a good job. My condition is the best from working with my dad (former world champion Wilfredo Vazquez, Sr.) and my team. I know Bedak is disregarding me because of my little experience in boxing, but everybody should know I've trained real hard to keep my title."
Zsolt Bedak: "Our training has been strong (he is trained by former world champion Artur Grigorian) and I have come here to take the title. We've come to put on a great show and go home with a victory."
Rocky Martinez: "All I want is the day of the fight to come because I'm in tremendous shape and I want to defend the title again. We are prepared for whatever my opponent brings (Gonzalo) Mungia has been talking a lot. He has a mouth but everything will come out in the ring."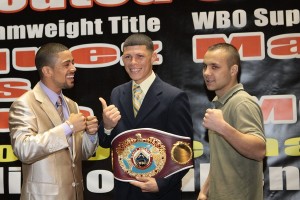 Wilfredo Vazquez, Jr., Rocky Martinez and Zsolt Bedak. (Picture By: PR Best Boxing)
WHEN:    Saturday, May 29, 2010 – 9 PM/ET 6 PM/PT
WHERE: Bayamon, Puerto Rico
PROMOTER: PR Best Boxing in association with All Star Boxing
PAY-PER-VIEW INFORMATION: Distributed in the United States by Integrated Sports Media for live viewing at 9 PM/ET – 6 PM/PT on both cable and satellite pay-per-view via iN Demand, DIRECTV, and DISH Network, for a suggested retail price of only $34.95.
PAY-PER-VIEW ANNOUNCERS: World Boxing Hall of Fame inductee Col. Bob Sheridan (blow-by-blow) and former NFL player and veteran boxing announcer Benny Ricardo (color analyst).
INFORMATION: www.integratedsportsnet.com
Integrated Sports Media: North America's leading distributor of International Pay-Per-View and Closed Circuit sports events has presented World Championship and world-class boxing matches featuring Erik Morales, Ricky Hatton, Cristian Mijares, Evander Holyfield, Roy Jones, Jr., Ivan Calderon, Rocky Martinez, Nicolai Valuev, Amir Khan, Marco Antonio Barrera, Arthur Abraham, David Haye, John Ruiz, Wilfredo Vasquez, Jr. and Ruslan Chagaev. In addition, Integrated Sports Media distributed numerous International soccer matches showcasing teams like Club America of Mexico and the National Teams of Argentina, Honduras, El Salvador and the USA, as well as World Championship and world-class mixed martial arts shows featuring Fedor Emelianenko, Tim Sylvia, Bobby Lashley, Bob Sapp, Jeff Monson, and Roy Nelson. For more information on upcoming Integrated Sports events visit www.integratedsportsnet.com.
Got an Opinion? Submit Your Article to be posted on Nowboxing.com
JOIN the NOW BOXING FORUM to discuss this and other boxing news topics (membership is FREE)