Los Angeles, CA (May 8, 2010) – In its nearly 30 years in the boxing industry Promoter Dan Goossen has grown accustomed to developing many young boxers from the amateur ranks into World Champions.  Now, Goossen Tutor Promotions has entered into a promotional agreement with a boxer who holds a World Championship title belt with the goal of developing him into a Marquee World Champion.
"It is with great pleasure and honor that WBA Light Heavyweight World Champion, Beibut Shumenov, has agreed to provide Goossen Tutor with the privilege of being his promoter," Goossen revealed at a press conference held at the Home Depot Center in Carson, CA just hours before his company's "THE WEIGHT IS OVER" promotion featuring Paul "The Punisher" Williams against Kermit Cintron in a scheduled 12-round super welterweight bout.
"This is just another facet we've worked for so many years, World Champions having the trust and confidence in our organization to bring them to another level," Goossen expounded, "we will not disappoint Beibut nor his very astute advisor, Cary Lynn Redlin."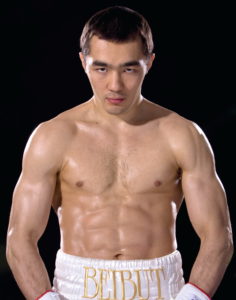 Shumenov carries the distinction of winning the Light Heavyweight World Championship with the fewest number of professional fights under his belt, having won the title in just his 10th professional bout in a January 2010 rematch of a controversial loss against Spain's Gabriel Campillo.
An amazing accomplishment for a young man who is still developing in his own right!
A 26-year old native of Chimkent, Kazakhstan, currently living and training in Las Vegas, NV with renowned trainer Kevin Barry, the 6-2, 175 lb. Shumenov (9-1, 6 KOs) is among the most unique figures to explode on the boxing scene in recent memory.
Following an outstanding amateur career in which he represented his native country as a Silver medalist in the first-ever Afro-Asian Games in India in 2003; as a Gold medal winner in the 2004 Asian Championships in the Philippines; and as a member of its Olympic Boxing Team in Athens, Greece the same year, Shumenov and his brother, Chingis, moved to Las Vegas and formed KZ Event Productions, Inc. in 2007.
Shumenov then turned pro under his own promotional umbrella and debuted with a first-round stoppage of Walter Edwards in Wilson, NC.  In his next seven fights, this remarkable warrior would go on to face – and defeat — a pair of former world champions in Montell Griffin and Byron Mitchell, as well as Epifanio Mendoza, who had an unsuccessful world title challenge against WBC champion Chad Dawson.
Then, in August of last year, came the disputed loss to Campillo by majority decision in Shumenov's first attempt at a World Championship — in Beibut's home country of Kazakhstan.  A rematch was ordered by the WBA and Shumenov captured the title by split-decision in Las Vegas earlier this year.
In becoming the WBA Light Heavyweight World Champion in just his 10th bout, Shumenov shattered the previous record of 15 bouts by Jeff Harding back in 1989.  He also became the fourth boxer from Kazakhstan to win a professional world title.  The others were Anatoly Alexandrov (WBC Super Featherweight, in 1990), Oleg Maskaev (WBC Heavyweight, 2000) and Vassily Jirov (IBF Cruiserweight, 2001).
And now Shumenov – who, along with his brother, Chingis, will continue to sign and develop talent for KZ Event Productions, Inc. – has decided to have Goossen Tutor promote his boxing matches so he can give one-hundred percent focus on training and becoming the undisputed Light Heavyweight Champion of the World.
"I'm excited about this arrangement with Dan (Goossen), one of the leading promoters in boxing today," Shumenov declared.  "They get a lot of television dates and have a strong stable of boxers and they always seem to maximize the opportunity for their boxers.  That is all I can ask for… I will do the rest."
"Being a world champion and promoter and all the work that goes into that, especially when I'm in training for a fight, makes it very difficult for me.  I need to concentrate on training, which I'll now be able to do and let Dan and his great team at Goossen Tutor handle the business outside the ring.  KZ Event Productions will still be promoting shows and my brother and I will still be involved with our KZ fighters and signing new talent.  I look forward to even bigger and better things working with Goossen Tutor."
Shumenov's first fight under the Goossen Tutor banner is expected to take place in July in the United States against the very tough and undefeated Ukrainian Vyacheslav Uzelkov (22-0, 14 KOs), the mandatory challenger for the WBA Light Heavyweight Championship.
Got an Opinion? Submit Your Article to be posted on Nowboxing.com