PROVIDENCE, R.I. (June 22, 2010) – Hartford super bantamweight Mike "Machine Gun" Oliver, the reigning New England and EBA champion, will be in a crossroads fight Saturday night as he continues his journey back to the top of the 122-pound division, taking on 4-time world title-holder Mauricio "Indio Boy" Pastrana in the 8-round co-feature on the "Pride & Power" boxing show, presented by Jimmy Burchfield's Classic Entertainment and Sports, Inc. (CES), at Mohegan Sun Arena in Uncasville, Conn.
Hartford heavyweight prospect Tony "TNT" Grano (17-1-1, 13 KOs), the reigning WBF All-Americas heavyweight champion, faces former U.S. amateur standout Nicolai "Stone Man" Firtha (17-7-1, 7 KOs) for the vacant NABA-US heavyweight title in the 12-round main event.
The Ring magazine recently named Grano's sensational victory by fourth-round knockout last September on Showtime against previously undefeated Travis Kaufman (18-0) as its 2009 Heavyweight Fight of the Year.
Oliver (23-2, 8 KOs), an outstanding amateur who started boxing when he was only two, won his first 21 pro fights, including the IBO super bantamweight title in 2007 with a 12-round decision against Al Seeger (27-2). During the aforementioned win streak, Mike defeated Adam Carrera (18-1) for the USBA strap and handed Gary Stark Jr. (18-0) his first loss by way of a 12-round decision.
Back-to-back losses in 2008 to Reynaldo Lopez and Antonio Escalante, however, knocked Oliver out of the rankings and into a semi-boxing abyss. Oliver has won his last two fights, along with a no decision, since suffering his last loss.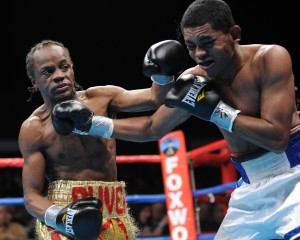 Picture of Mike Oliver (Picture credit: Emily Harney)
"Any fight at this stage – I don't care who it's against – is the most important fight of my career," Oliver said. "I need to take every fight serious to get me back to where I was before. I want to fight for another title and a win Saturday night will get me closer. Pastrana stays right in front of you and I like that. If he wants to go toe-to-toe, it's going to be wrong for him. I'll be fully prepared for him. I'm only 30 and I was born to fight."
Pastrana (35-13-2, 23 KOs) has been a world title holder in five different weight classes (light flyweight, flyweight, super flyweight, bantamweight and super bantamweight) and he also holds a win against one of only two fighters to defeat Oliver – Escalante. Among others, Pastrana's victims include Michael Carbajal, Jose Bonilla and Mike Trejo.
"This fight was supposed to happen about three times," Pastrana commented from his camp in Florida. "Now that I've lost three in a row, I guess they must figure I'm done, but lately I've taken a lot of last-minute fights and [had] some bad luck. I'm excited because Oliver is perfect for me. Usually, I'm the smaller guy (they're both listed at 5' 5"). I know he needs this fight but I have to win, too."
Long Island light heavyweight Joe "The Irish Bomber" Smith Jr. (4-0, 4 KOs) doesn't get paid by the minute or else he'd be broke. The 2008 New York Golden Gloves Champion goes for his fifth straight first-round knockout in his fifth pro fight, against Walter Foster (4-2-1, 4 KOs) of Panama City, Panama.
CES Ring of Honor Induction – Jamie Silva
One of New England's best football players, Jamie Silva, will be inducted into the CES Ring of Honor as a honorary member. Silva was the 2002 Rhode Island Player of the Year and he earned first team, All-America honors in 2007 as a safety at Boston College. He is a member of the defending American Football Conference champion Indianapolis Colts.
Also on the undercard in 4-round bouts are New Haven middleweight Rick Dawson (1-0, 1 KO), brother of light heavyweight star "Bad" Chad Dawson, vs. Jeremiah Jones (1-3-1) of Toledo, Ohio; Bridgeport (CT) super lightweight Carlos Hernandez (0-1) vs. Fall River's (MA) pro-debuting Jonathan Vasquez; New Haven junior welterweight Edwin Soto (4-0, 2 KOs) vs. Bryan Abraham (2-3-1, 2 KOs); New Haven prospect Luis Rosa, Jr. (2-0) vs. pro-debuting John Passantino of Seldon, NY and unbeaten Philadelphia welterweight Frankie Trader (6-0, 2 KOs), who will face Springfield's (MA) Noel Garcia (2-3-1, 1 KO). All fights and fighters are subject to change.
Tickets for "Pride & Power," priced at $40.00, $65.00 and $105.00, are available to purchase by calling CES (401.724.2253/2254), going online at www.cesboxing.com or at the Mohegan Sun Box Office. Ticketmaster customers may log on to www.ticketmaster.com, call Ticketmaster's national toll-free charge by phone (1.800.745.3000) or visit any Ticketmaster outlet.
For more information contact CES (401.724.2253/2254/www.cesboxing.com) or Mohegan Sun (www.mohegansun.com). Doors open at 6:00 PM/ET, first bout at 7:30 PM/ET.
Got an Opinion? Submit Your Articles and Press Releases to be posted on Nowboxing.com
JOIN the NOW BOXING FORUM to discuss this and other boxing news topics (membership is FREE)