The father of undefeated boxing star, Floyd "Money" Mayweather Jr., is confident that if his son and Manny "Pacman" Pacquiao fight, his son will stop the Filipino congressman easy.
Floyd Mayweather Sr. told Boxingscene.com that Manny Pacquiao would be an easier fight than Sugar Shane Mosley was for his son. Mayweather Sr. also  insults Pacman's trainer Freddie Roach for not teaching Manny how to box.
"C'mon with that, my son will knock him out. Pacquiao can't box. Freddie Roach didn't teach him anything. He still can't box. Shane Mosley is a tougher fight than Pacquiao. He didn't want to fight Shane Mosley. Floyd beat the shit out of Shane Mosley. All Pacquiao has to do is show up and Floyd will whoop his ass," said Mayweather Sr.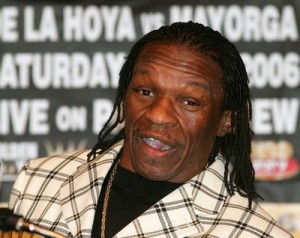 Picture of Floyd Mayweather Sr.
The  Floyd Mayweather Jr. vs. Manny Pacquiao super-fight is looming and it has the boxing community hanging on the edge of their seats in anticipation, it's similar to NBA fans waiting to see what NBA basketball team Lebron James signs with.
If the fight happens this year it could possibly be the highest grossing boxing event of all time breaking the record 2.4 million ppv buys that Floyd Mayweather Jr. previously set when he fought Oscar De La Hoya.
*Please refrain from leaving any Racial, Profane or Derogatory comments*
Got an Opinion? Submit Your Articles and Press Releases to be posted on Nowboxing.com
JOIN the NOW BOXING FORUM to discuss this and other boxing news topics (membership is FREE)