WARSAW, Poland (July 20, 2010) – Recent critical quotes by former Pride FC fighter Eric "Butterbean" Esch regarding Mariusz Pudzianowski have initiated a terse response from the 5-time World's Strongest Man's promoter in Poland, KSAW Federation, which has been organizing MMA events in Europe since 2004.
The popular "Butterbean," who is a former pro boxer and sumo competitor, publicly insulted Pudzian in the aforementioned press release – saying, among other things, "as strong as he is, he (Pudzianowski) punches like a girl' — and promised a knockout victory if he ever meets the Pole in MMA competition.
KSW Federation has expressed its discontent with the opinions formulated by 'Butterbean," noting that as an official of MMA promoter Moosin, Esch used Mariusz as the main attraction this past May on its pay-per-view event held in Worcester, Massachusetts.
"I don't understand the reasoning behind Esch's statements," KSW co-owner Martin. Lewandowski said. "One would think it's just a publicity stunt. However, if Butterbean is really interested in this bout, we can seriously consider it. But in order to do that, we need more precise declarations from Esch."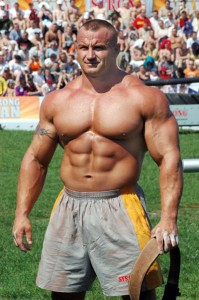 KSW co-owner Maciej Kawulski added, "'Butterbean' is an MMA superstar in the USA. Mariusz would have to deal with an extremely experienced opponent, who's also an uncompromising competitor in the ring. His fighting style is very brutal and aggressive. If Mariusz improves his conditioning — I know he is working on it with professionals — this fight could end up being an unforgettable show for all KSW fans. Once both sides express interest in the fight, KSW Federation will try to book this bout."
Moosin, based in South Korea-based, has promoted MMA shows in South Korea and the United States and, in conjunction with the International Taekwon-Do Federation, plans expansion into to China, Poland and Australia.
Go to www.MoosinUSA.com for more information about Moosin.
Moosin: A global event promoter based out of Seoul, South Korea, in conjunction with the International Taekwon-Do Federation, Moosin is known for bringing fans the finest in mixed martial arts competition. Moosin is revolutionizing the MMA industry by merging an international roster of talented fighters with recognizable stars from the world or music, sports and popular culture. Moosin pits warrior against warrior, featuring a hybrid of MMA and hard-hitting Moosin-style kickboxing, in hand-to-hand battles of skill, honor and art.
*Please refrain from leaving any Racial, Profane or Derogatory comments*
Got an Opinion? Submit Your Articles and Press Releases to be posted on Nowboxing.com
JOIN the NOW BOXING FORUM to discuss this and other boxing news topics (membership is FREE)