A Disgruntled Boxing Fan's honest opinion on the Pacquiao vs. Mayweather situation
I am proudly black and I fully support Manny Pacquiao because he is the best boxer in the world today and Floyd Mayweather Jr. is a cheating sorry case that will never face his match in the ring.
Floyd knows for a fact that he was never the best boxer and will never be, he likes to brag about it in the media but can never actually do what he says in the ring. He goes around spreading rumors like a little girl only to avoid the ultimate boxer [Manny 'Pacman' Pacquiao] that will make him look like an amateur, come on little baby Floyd don't cry like a little girl you cant run forever.
You have to quit to really escape the inevitable but you know and I know you're gonna have to come up with a really good excuse this time to retire with a valid reason or commit a crime and go to jail and wait for Manny Pacquiao to be out of shape and old, then get released and take him down you sorry sad case…hope you get what you deserve coward……..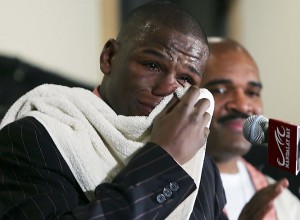 Manny's frustrated boxing fan
E. Gabriel
*Please refrain from leaving any Racial, Profane or Derogatory comments*
Got an Opinion? Submit Your Articles and Press Releases to be posted on NowBoxing.com
JOIN the NOW BOXING FORUM to discuss this and other boxing news topics (membership is FREE)