By Freddy Fresco
We've all heard it before, the typical diatribe coming from the Mayweather family and the Floyd Mayweather fan boys. No matter what Manny Pacquiao does they will never give him the respect or credit he deserves.
They always find a way to discredit the man or disrespect him in some way. The Mayweather fan boys will hate on Manny as a way of defending the man they love. It's like a jealousy thing, if they see another fighter getting love and praise from the majority of people they will automatically hate on that fighter because people are trying to place him above the man they are in love with.
Recently, Roger Mayweather, the Uncle/trainer of Floyd Mayweather Jr., told Fight Hype that Margarito was paid to take a dive and continued to discredit Manny Pacquiao's wins.
If you read or listen to any interview by Roger Mayweather you can see that he knows how to flip anything in a debate just to hate or discredit Pacquiao.
If someone tells him that Manny Pacquiao is beating all these bigger men Roger will answer with, "Of course he beating those big guys cause he draining them at catchweights and not letting them put weight back on when they fight"
If someone tells him well why do you think Manny Pacquiao is on steroids? Roger will answer with, "Pacquiao is on steroids cause he beating all these big guys and taking their best shots, I never seen a fighter in the history of boxing who doing what Pacquiao is doing."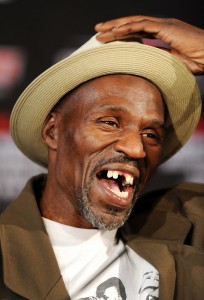 Wait a minute first he says what Pacquiao is doing is nothing special cause those big guys were drained and easy to beat, but later he says Pacquiao is on steroids because what he is doing is beating on bigger fighters and taking their best punches? Well if he is beating drained fighters then Mayweather's steroid accusations make absolutely no sense at all. The truth is the Mayweather clan are impressed with Pacquiao, but will never admit to it out of pride.
If Pacquiao beats Antonio Margarito we already know the type of remarks that will come from Roger Mayweather, "Margarito took a dive or Margarito was drained and wasn't the same fighter after Shane Mosley beat him."
And if Manny Pacquiao loses to Margarito, Roger will probably say, " I told you that Pacquiao wasn't great, without his steroids he wasn't anything, and people thought this guy could beat my nephew?"
So basically what is it? Either Manny Pacquiao beat up washed up drained fighters or he is on steroids cause he is beating bigger men.  So basically he is just discrediting Manny Pacquiao for the sake of discrediting him.
No matter what Manny Pacquiao does, "Haters are gonna hate."
*Please refrain from leaving any Racial, Profane or Derogatory comments*
Got an Opinion? Submit Your Articles and Press Releases to be posted on NowBoxing.com
JOIN the NOW BOXING FORUM to discuss this and other boxing news topics (membership is FREE)