London – Monday 22nd November 2010
Flamboyant Light Middleweight Yassine El Maachi is clearly in fighting mood ahead of the defense of his International Masters title, against France based Haitian hard man Jimmy Colas at the Steve Goodwin promoted 'Judgement Day' double title event at York Hall on Saturday 4th December.
El Maachi, who recently vowed to destroy the European number four ranked Colas, has now turned his venom towards the plethora of British fighters that he feels have avoided him over the years by saying, "The British Boxers know that I would beat all of them so they wont risk it against me."
The first to receive a personal tongue lashing from El Maachi, who is currently at camp in Scotland with Heavyweight World Title challenger Derrick 'Del Boy' Chisora, is Prince Arron, who is set to challenge Sam Webb for his British title early in 2011.
"Prince Arron is not fit to be my sparring partner." said the London based Moroccan, before continuing, "A false Prizefighter champion. Only won it because I wasn't in it. He is tall but all that means is he would fall harder when I land on his glass jaw and knock him out. No skill I would tear him apart. Wont be allowed to though, They are scared."
El Maachi then turned on former British title holder Anthony Small, "The guy is a joke. All the mouth and my friend Sam Webb beat him.
Steve offered £50,000 for him if he could knock me out. They turned the fight down with a ludicrous reason that I wouldn't put in print.
I sparred with him and played with him like a little baby. He has his own issues now so I doubt the fight will ever happen."
Clearly no love of Anthony Small then by 'The Showman' and it seems his feelings on Steve O'Meara are of a similar vein, "Steve O'Meara: or Steve O'Chicken. Should quit boxing as he must be scared of his own shadow."
Whilst Prince Arron, Anthony Small and Steve O'Meara were to receive the full brunt of El Maachi's verbal onslaught, his view's on other well known British Light Middleweights were a little more reserved.
"Full credit to Ryan Rhodes for what he has done and resurrected his career" commented El Maachi before saying, "but against me there's only one winner and that's me. I have too much class speed and angles for him. He's Hatton's Golden Boy and I would destroy him and end his career. They know it."
'The Showman' then maneuvered his sights towards Northolt's Ryan Toms, who recently beat Daryl Setterfield in a rematch, "Would love to smash his 0 and win the southern Area title against him. It would be man against boy." Before locking his sight fully on former opponent Brett Flournoy. "Beat me when I was a journeyman and going just to lose. I would destroy him now."
Next to receive El Maachi's sharp tongue was former Commonwealth Champion Bradley Pryce, "Steve (Goodwin) had agreed a fight with Enzo Calzaghe. Then Bradley changed managers to Gary Lockett and Gary turned it down. Another one too scared to fight me."
El Maachi then spoke in much gentler terms of Craig Watson, "Craig is a solid tough fighter. Beat Badru Lusumbya which I could have done with one hand behind my back. Craig is a league below me." and Nathan Graham "His manager Spencer Fearon has already turned down me fighting him. He wouldn't last 4 rounds and he knows it."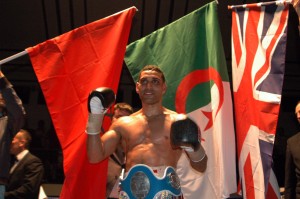 Surprisingly El Maachi showed that whilst he has no time or respect for many of the current names on the British Light Middleweights, there were exceptions. This was best shown by his views on Lee Noble, "One punch from him beat Pat McAleese. Pat was winning the fight easily until this happened. To be fair to Lee he will box anyone. He is one of the few who is not scared but he knows I would just destroy him."
Almost a compliment from El Maachi there and even more so when he turned his attention to Max Maxwell, "Full credit to him for beating Brian Rose. He was going to box me until he beat Rose then turned the fight down (understandably) as he had a potential opportunity to box Sam Webb for the British title which did not materialise."
Just on the mere mention of the British Light Middleweight Champion Sam Webb's name El Maachi's tone softened considerably, "Sam is a good friend of mine and I have the utmost respect for him. I hope he does well and maybe one day we will meet for the World Title. That would be nice."
Yassine El Maachi versus Jimmy Colas for the International Masters Light Heavyweight title headlines the Steve Goodwin promoted "JUDGEMENT DAY" double title event at York Hall, Bethnal Green, London on Saturday the 4th December 2010.
Co-headlining 'Judgement Day' will be Ryan 'Mr Attitude' Barrett who will be defending his newly won International Masters Lightweight title, against the heavy hitting Hungarian knockout artist Istvan Nagy.
Supporting El Maachi-Colas and Barrett-Nagy are twelve top class bouts featuring the cream of local talent.
Tickets for Judgement Day at the York Hall, Bethnal Green, London on Saturday 4th December 2010 are priced £35 ( (Unreserved) or £60 (Ringside).
For tickets call: 07960 850645, book on-line at www.tkoboxoffice.com or in person at The Ultrachem TKO Gym, Gillian House, Stephenson Street, Canning Town, London E16 4SA.
*Please refrain from leaving any Racial, Profane or Derogatory comments*
Got an Opinion? Submit Your Articles and Press Releases to be posted on NowBoxing.com
JOIN the NOW BOXING FORUM to discuss this and other boxing news topics (membership is FREE)