By: Coach "K" (SBB)
November 6th, The Prudential Center, Newark, New Jersey: In the featured attraction of Golden Boy Promotions and Kathy Duva's Main Events "You're Next" pro boxing card Brooklyn's former world champion Zab "Super" Judah showed his maturity winning the vacant WBO NABO light welterweight title in a tightly contested twelve round split decision over previously unbeaten Argentine banger Lucas Matthysse.
The main event a IBF & WBO 140 lb eliminator was clearly a contrast of styles with Judah a southpaw moving and boxing, sticking with his jab setting up his big left hand as the Argentine slugger Matthysse carrying a recorded of 25 KO's in 27 fights fired away with both hands banging the Brooklynights body.
Despite some booing from the "Super" partisan crowd Judah showed his coming of age staying cool appearing to grab a lead taking most of the early tightly contested rounds.
Matthysse picked up the pressure in the middle rounds with Judah suffering a cut over his left eye from an accidental clash of heads in round eight.
The Argentine brawler continued to stalk Brooklyn's light welterweight star attempting to use his weight and strength advantage as a factor (weighed in 151 lbs fight night to Judah at 143lbs). Matthysse finally reached Judah in the tenth dropping the former champion with a heavy right to the head. Judah appeared stunned but made it upright going on to clear his head weathering the storm making it to the bell.
In the championship rounds loading up on all his shots Matthysse continued his attack but Judah showing that newly found maturity mixed in some strategic clinching with a few sporadic volleys forcing Matthysse to chase him until the final bell.
After the very competitive bout the judges scorecards were announced to mixed reviews with judges Joseph Pasquale and Hilton Whitaker scoring it 114-113 for Judah and judge Waleska Roldan calling it 113-114 for Matthysse.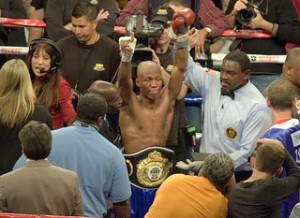 In an exciting lightweight co-feature Gilroy, California's three time world champion southpaw Robert "The Ghost" Guerrero, 28-1-1, 18Ko's showed Championship poise setting up and picking his spots out boxing fellow Californian Vicente Escobedo, 22-3, 14Ko's a 2004 Olympian over ten rounds to win a decisive ten round unanimous decision winning the vacant WBO Inter-Continental lightweight title. Guerrero floored his childhood rival in rounds three and six with vicious left uppercuts to establish his dominance.
Escobedo who owns wins over Kevin Kelley, Roberto David Arrieta and Carlos Urias appeared in excellent conditioning and would have his moments but was hurt several times on top of the knockdowns.
Guerrero never in trouble applied a steady pressure attack setting up his power shots using an educated right hand mixing jabs and hooks leading the former Olympian into big left uppercuts.
After establishing a formidable lead with the two knockdowns Guerrero smartly moved a bit more in the ninth and tenth rounds forcing Escobedo to take bigger chances, resulting in big missed shots and "The Ghost" timely stopping to land clean counters.
Following the sound ending round ten the judges scores were announced 100-88, 98-90, 96-92 all for "The Ghost" earning him the vacant WBO Inter-Continental lightweight title and his sixth title belt making him the mandatory challenger to the winner of the Juan Manuel Marquez / Michael Katsidas WBA Super World and WBO lightweight title fight November 27th at the MGM Grand in Las Vegas.
After the fight "The Ghost" acknowledged respect for Escobedo and affirmed he hurt his left hand in the seventh round.
On the undercard: Brooklyn's 2008 Olympian t Sadam "The World Kid" Ali destroyed Chalmette, Louisiana's "Southern Pride" Gary Bergeron in an overmatched welterweight fight dropping him twice the second time with a driving left hook, right hand combinations forcing a stoppage at 2:18 of round two.
Miami, Florida veteran lightweight Ilido Julio 40-19-1, 35Ko's proved to be no "Problem" for Cincinnati, Ohio's Jr. Adrien Broner when Broner blitzed the overwhelmed veteran hurting him early. Broner banged Julio with both hands dumping him twice forcing the referee to call the action at 1:34 of round one. Broner remains unbeaten at 18-0, 15Ko's.
In an entertaining light heavyweight bout Newark, New Jersey's Angel Concepcion proved to be too big and too strong for Philly's rugged Maurice Amaro earning a 40-36 times three unanimous decision to stay unbeaten at 3-0 as Amaro slides to 1-3.
Long Island junior lightweight Mike "Lefty" Brooks used is strength and superior power to launch a concentrated body assault on Philadelphia's Kywayne Hill to score a 40-36 unanimous decision shutout moving to 3-0, 1Ko giving Hill his fifth straight loss and dropping him to 1-6, 1Ko.
Middletown, New Jersey's, Tyrone Luckey used his significant size advantage and a solid jab to set up combinations flooring Lawrence, Massachusetts Alex Monte three times before official intervention ended it at 2:55 of round three giving Monte, 1-2 his second straight loss as Luckey advanced to 2-0, recording his second KO.
Unbeaten Newark lightweight Mike "The Artist" Perez took just over a minute to paint where
Miami's Hevinson, Herrera belonged on his resume. Perez blasted Herrera with a right hand, left hook combo flattening the Colombian like a drop cloth at the Museum of Modern Art ending it in dramatic fashion at 1:02 of round one. Perez moves to 10-0-1, 5Ko's while Herrera drops his third straight falling to 14-7-1, 12Ko's.
Las Vegas jr. middleweight Bastie Samir remained perfect disposing Reidsville, North Carolina's Damion Reed in the first round of their scheduled four rounder with a brutal combination stopping the one sided action at 2:47 of round one. Samir climbs to 6-0, 6Ko's as Reed slips to 2-4, 1Ko.
Golden Boy Promotions newly signed Canadian welterweight Mikael Zewski showed all the traits of a ring general shutting out Philadelphia's "Hitman" Ardrick Butler in their scheduled four rounder. Zewski movement and combination punching body advanced him to 5-0, 3Ko's while Butler dips to 5-3, 2Ko's.
Kathy Duva's next boxing event at The Prudential Center headlines Tomasz Adamek vs Vinny Maddalone in New York vs New Jersey Dec. 9th.
For more boxing info go to www.StrictlyBusinessBoxing.com
*Please refrain from leaving any Racial, Profane or Derogatory comments*
Got an Opinion? Submit Your Articles and Press Releases to be posted on NowBoxing.com
JOIN the NOW BOXING FORUM to discuss this and other boxing news topics (membership is FREE)