London – Monday 1st November 2010
Yassine El Maachi Says "I'll Destroy Colas – He's Never Seen A Fighter Like Me"
On Saturday Yassine El Maachi left his London home to travel to the Scottish Highlands, for a four week training camp to prepare for his upcoming first defense of the International Master Light Middleweight title, against European Number 4 ranked Jimmy Colas, at the Steve Goodwin promoted 'JUDGEMENT DAY' super show at York Hall, London, on the 4th December.
This will be the first time in Yassine's career that he has undergone such a preparation. He will leave his wife and two young children behind as he embarks on a challenge which he hopes will culminate in a World title shot in the coming year or so.
Yassine, along with trainers Don Charles and Kevin Merrie, will be joining British & Commonwealth Heavyweight Champion Dereck 'Del Boy' Chisora as he prepares for his 11th December showdown with IBF, WBO & IBO Heavyweight Champion of the World Wladamir Klitschko.
In true 'Rocky' style the London based Moroccan has seen his career change from 'journeyman' status – where he was "required" to lose to keep busy – to genuine World title prospect in just two years.
Back in 2008, shortly after teaming up with Don Charles and Kevin Merrie, Yassine scored a sensational second round knock out of Kevin Concepcion which consigned his days as a journeyman to the past.
Even after such a convincing win fights were still hard to come by. Apart from Mick Hennessy, who gave Yassine some small undercard bouts, the promoters just didn't seem to want to work with this entertaining London based Moroccan affectionately known by his fans as 'The Showman'.
Before leaving for Scotland Yassine explained how the circumstances changed that now sees him on the verge of breaking onto the wold stage and his upcoming fight against Jimmy Colas. "Twelve months ago I was on the verge of quitting boxing and then my trainer Don Charles introduced me to Steve Goodwin.
Don and his friends had known Steve personally for 25 years and told me that he was a man of his word and would help me.
Steve only took out his promoters license 7 months ago but to sign with Steve is a decision I do not regret one bit. Before I signed with Steve no-one wanted to box me and my career was heading nowhere.
Then in April this year I defeated Bertrand Aloa to win the International Masters Light-Middleweight title. I accept this is not a highly regarded belt but not having a UK passport meant the only title I could fight for was the Southern Area apart from the Masters. Both George Hillyard and Steve O'Meara chickened out of fighting me for the title because they both know I would toy with them and knock them out.
I was hoping in July to box for the ABU title in Morocco but the Moroccan promoter let me down. Steve had given his blessing for me to take this fight but 6 days before the bout they called it off.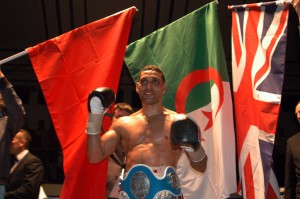 However Steve has unveiled a gem and got the European number 4 over for me. I know this is costing him money and I really appreciate him backing me like this. No one has ever done this for me before and I will repay him by putting on a fantastic show and destroying Colas.
Colas has never met a fighter like me before and I will use angles and frustrate him and ultimately toy with him. Colas is a similar type of boxer to Matthew Hall and I would have knocked out Matthew Hall. Unfortunately Kocelny got there first.
The problem is not having a British passport, no leading promoter would have me. I was turned down for Prizefighter because of this and the winner Prince Arron is not fit to be my sparring partner. He is tall but all that means is he would fall harder when I land on his glass jaw and knock him out.
The British Boxers know that I would beat all of them so they wont risk it against me. However by the end of 2011 they will have to as I force myself into the world top 20.
With the backing of Steve Goodwin the sky is the limit. Lennox Lewis made Frank Maloney and I will help make Steve Goodwin to repay him for what he does for me.
I am hoping that after beating Colas that in March I will face an even higher calibre of opponent. Steve has been talking with a big named former WBA World Champion who is considering boxing me in March and Hassan Bayran (world number 16) is also on the agenda.
The British Light Middleweights will watch as we fight home and abroad using unconventional methods to get me to the titles. When I get there other promoters, who would not touch me before, will come knocking but I will work alongside Steve only.
By the end of 2011 everyone will know who El Maachi is!"
Yassine El Maachi defense of his International Masters Light Middleweight title, against the seriously tough France based Haitian Jimmy Colas at the Steve Goodwin promoted "JUDGEMENT DAY" double title event at York Hall, Bethnal Green, London on Saturday the 4th December 2010.
Co-headlining 'Judgement Day' will be Ryan 'Mr Attitude' Barrett who will be defending his newly won International Masters Lightweight title, against a yet to be named opponent.
There are no less than twelve top class support fights including the highly anticipated all girl Featherweight clash, rescheduled from September 11th, between Ultrachem TKO Boxing Gym's Marianne 'Golden Girl' Marston, and the highly experienced Welsh battler Lana Cooper.
Another rising star from Johnny Eames' Ultrachem TKO Gym stable on the show is the ever stylish crowd pleasing Featherweight 'Saint' George Jupp, against a yet to be named opponent.
Fresh from his superb victory, over veteran Hastings Rasani, the highly popular Essex Cruiserweight Tony 'The Conqueror' Conquest will again be in action and looking to extend his unbeaten record against a yet to be named opponent.
Tony's gym mate, the highly entertaining Welterweight John Wayne Hibbert, will be making his welcome return to the York Hall. The Stetson wearing Hibbert is an all action fighter with a knockout reputation – four stoppage finishes in his six outings to date.
Waltham Abbey's Phil Gill, AKA 'The Experience', will be looking to increase his unbeaten record to seven, whilst Light Middleweight War Lord Michael 'The Zambezi Hitman' Norgrove will be looking to take his unbeaten record to four.
Bethnal Green's own Jamie Arlain gets his second outing, as is Islington's John 'The Gorilla' Ryder, who will be looking to emulate his stunning debut victory. So far Ryder has had just 90 seconds of ring action. That's right it took him just half a round to beat the hapless Ben Denghani into submission.
Another single fight veteran with an early knockout record is Ely, Cambs Light Welterweight Tyler Goodjohn. His first victim, Dale Hutchinson, staying the course 264 seconds longer than Denghani did with Ryder.
Rounding out the show are three debutants. Super Featherweight Richard Hines, Light Welterweight Charlie Kelly and Ultrachem TKO Gym's Super Middleweight Brett O'Callaghan.
Tickets for Judgement Day at the York Hall, Bethnal Green, London on Saturday 4th December 2010 are on sale now – priced £35 (Unreserved) or £60 (Ringside).
For tickets call: 07960 850645, book on-line at www.tkoboxoffice.com or in person at The Ultrachem TKO Gym, Gillian House, Stephenson Street, Canning Town, London E16 4SA.
*Please refrain from leaving any Racial, Profane or Derogatory comments*
Got an Opinion? Submit Your Articles and Press Releases to be posted on NowBoxing.com
JOIN the NOW BOXING FORUM to discuss this and other boxing news topics (membership is FREE)