London – Tuesday, 14th December 2010
Sutton's Danny 'Cassius' Connor and Redhill's 'Dynamo' Daryl Setterfield are back in action this coming Saturday, the 18th December, at the Bruce Baker promoted  'Christmas Punch' event at the Tolworth Recreation Centre in Surbiton.
The pair of Surrey battlers, who both train at Johnny Eames' Ultrachem TKO Boxing Gym in Canning Town, London, have been sparring each other as part of their preparations.
Following one of their intense sessions Daryl, whose last outing was against Navid Mansouri on the undercard of the David Haye – Audley Harrison World title fight at the M.E.N. Arena in Manchester in November, spoke of his upcoming fight. "I'm fighting Adam Battle, he's quite a strong puncher and boxes all right. He beat Danny last time, but Danny wasn't on form then. Hopefully I should beat him.
I'm looking to end the year on a high. I've had a few hard fights this year. The last fight in Manchester I had a cold for a week but still had to rise to the occasion. I enjoyed the occasion but the result not so much. Can't complain though as I only boxed to about 25% of my ability.
I'm looking to win on Saturday and keep things rolling in 2011."
A short while after he'd finished his training session Danny, who drew against Daryl Setterfield on his maiden outing as a professional and lost to Daryl's opponent Adam Battle on his second pro fight, said, "Yeah, I'm boxing a boy called John Brennan. He's a good fighter, he got to the London finals in the ABA's.
He's not a bad fighter, he's a stand up fighter who likes to come forward and get involved.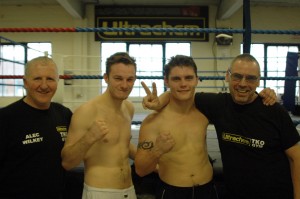 He's got a flat old nose so obviously hasn't got much of a defense. So I'm going to look to use my speed, my angles and make that nose even flatter for him.
I'm looking to build on this for the New Year. Everything is totally different from my last fight, I've been running properly and doing my sprints. Everything is going good in the gym.
I'm definitely going to do a number on this kid ad let everyone know what I am all about."
'Dynamo' Daryl Setterfield versus Adam Battle and Danny 'Cassius' Connor versus John Brennan will be on the undercard of Ryan Toms versus Lee Purdy for the vacant British Masters Light Middleweight title at the Bruce Baker promoted 'Christmas Punch' event at the Tolworth Recreational Centre in Fullers Way, Surbiton on Saturday 18th December 2010.
*Please refrain from leaving any Racist, Profane or Derogatory comments*
Got an Opinion? Submit Your Articles and Press Releases to be posted on NowBoxing.com
JOIN the NOW BOXING FORUM to discuss this and other boxing news topics (membership is FREE)