By Pierre Grimm
I touched on this subject in my previous article "Boxing Fans Are You Going To Boycott Pacquiao Vs. Mosley?" and someone left a comment underneath with a link to a Boycott Manny Pacquiao vs. Shane Mosley Facebook page.
This was an awesome comment and I felt proud of whoever made that Facebook account. It goes to show that there are still some hardcore boxing fans around who are willing to take a stand and do what's right for the sport or boxing by not taking anymore crappy fights from promoters. We all know the Floyd Mayweather fight won't happen but at least put Manny in against someone coming off a big win.
Manny Pacquiao is someone I enjoy watching fight, and supported, but I cannot support this fight with Shane Mosley, because we want to see someone who deserves a shot at Manny to fight Manny not just someone with a big name who will bring in the big dollars. At this point in his career Manny Pacquiao could fight a cab driver and still sell 1 million pay per view buys. A fight with Andre Berto or Juan Manuel Marquez isn't a hard sell, it would probably do the same numbers a Pacquiao vs. Mosley would do or even better, but those are risky fights that's the number one reason they are not getting made. Bob Arum is trying to protect Manny from those type of fighters because should Manny lose his aura will be gone and the Pacquiao product will lose value. Don't get me wrong Mosley is still capable of knocking out Manny and winning this fight, but he doesn't deserve this fight because just like Antonio Margarito he is coming off horrible performances.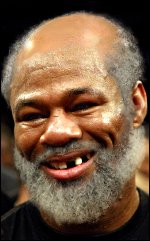 We had to endure the ridiculous Don King heavyweight pay per view's of the early 2000's, nobody wanted to see John Ruiz headline a fight, but he crammed it down our throats and single handily destroyed the heavyweight division by never allowing the other champions to unify the titles with the Klitschko brothers.
Now Bob Arum is trying to cram some more crap down our throats while spitting in our face saying "who cares what the hardcore boxing fans want" not realizing it's the hardcore boxing fans who kept the sport alive and not the casual fans. The hardcore boxing fans are the ones who ordered your Top Rank Latin Fury and Pinoy Power pay per views, I doubt any casual fan did.
Bob Arum don't be a Grinch and spoil Christmas and Hanukkah  for all the good boxing fans out there.
(All Photo credits go to the maker of the Boycott Pacquiao-Mosley Facebook Page)
Join the Boycott Pacquiao-Mosley Facebook Page and show your support by leaving a message on the wall.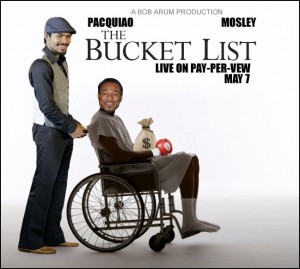 *Please refrain from leaving any Racist, Profane or Derogatory comments*
Got an Opinion? Submit Your Articles and Press Releases to be posted on NowBoxing.com
JOIN the NOW BOXING FORUM to discuss this and other boxing news topics (membership is FREE)