Heavyweight Champion Wladimir Klitschko (55-3, 49 KOs) wasn't happy with his opponent Dereck Chisora's actions outside of the ring and comments during the pre fight press-conference for their heavyweight title fight on Monday.
Chisora (14-0, 9 KOs) called Klitschko's hall of fame trainer Emmanuel Steward an "Uncle Tom," that all his opponents were taxi drivers and confidently boasted that he would beat Wladimir Klitschko and take his titles back to England.
Wladimir took the podium and said "The man that hits the woman is a loser," referring to Chisora's recent assault conviction for hitting his girlfriend. Chisora then talked about Wladimir's famous Hollywood actress girlfriend Hayden Panettiere saying she was only 3 feet tall and his girlfriend is bigger almost to justify hitting his girlfriend because she was much bigger and not as fragile.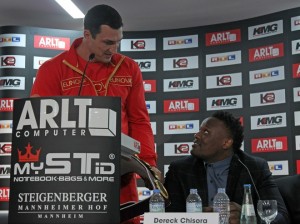 The Wladimir Klitschko vs. Dereck Chisora IBF/WBO Heavyweight title fight will be broadcast live from SAP Arena in Mannheim, Germany on RTL, Sky Sports in the UK will air the fight live on Pay-per-view, and the United States on Saturday, December 11, 2010 at 5:00 pm ET/PT will have the fight for free online at ESPN3.com and rebroadcast on Sunday December 12th at 2:30 pm ET/PT on ESPN cable network.
*Please refrain from leaving any Racist, Profane or Derogatory comments*
Got an Opinion? Submit Your Articles and Press Releases to be posted on NowBoxing.com
JOIN the NOW BOXING FORUM to discuss this and other boxing news topics (membership is FREE)