By Superstar Billy Graham
"I've been to Don King press conference before, and it seems like he takes hours. So I told myself that I'm going to bring a book this time. I might fall asleep on stage, and I needed something to distract me a little bit," said Bradley.
"I told Don in the elevator that I brought a book because I knew that he was going to be all day," said Bradley. "So, I mean, that's the reason why I brought a book. I'm reading on Pac Man, you know, his life history. He's another guy that I really admire and I really like him as a person." –  (source)
Those words came from current WBO light welterweight champion Timothy "Desert Storm" Bradley. Apparently Tim Bradley was growing weary hearing long winded speeches from Don King, decided to take upon himself bringing a book this time, and the book he chose was Manny Pacquiao's latest biography book entitled "Pacman: Behind the scenes of the greatest pound for pound fighter in the world". The book was written by Gary Andrew Poole who also writes for Time Magazine. It chronicles the life of Manny Pacquao from his early beginnings living through rough extreme poverty to his status as the #1 Pound for Pound fighter in the world and becoming a Congressman of his district.
Timothy Bradley who also grew up in a rough neighborhood and seems to relate to Manny Pacquiao but quickly realizes that Manny grew up in a kind of mind blowing poverty that something he has never experienced.
""I'm learning about him. I've got half of the reading done already. I'm learning about Manny. I know why Manny fights the way that he fights. I know more about where he came from and his background growing up in the Philippines," said Bradley. "Manny Pacquiao grew up poor and in poverty and fighting on the streets. He needed to make some money to earn some money so that he could eat."
And then Timothy Bradley adds-
"Like Manny Pacquiao, I came a long way, because when I won the world title, I was hungry. I didn't have a lot of money and I was struggling day in and day out," said Bradley. "I came from a tough neighborhood. There are a little bit of parallels. But, not like that. Not like that. He came from nothing."
Manny Pacquiao detractors have no clue at all the type of poverty Manny grew up in. They may have seen it but living through it is a different story. Especially Floyd Mayweather Jr, who also grew up in a rough neighborhood of Grand Rapids, Michigan. But what separates Manny Pacquiao's rough upbringing compared to Floyd is obviously the obstacles Manny had to live through. Living in a rough grip of poverty where hope can be as distant from General Santos City, Philippines where Manny grew up to Grand Rapids, Michigan birth city of Floyd Mayweather Jr. Poor in the Philippines is vastly different from poor in the United States. In the United States, we see the poor and the homeless. But only in this country you will a homeless person who is overweight. You will never see an overweight homeless person in any third world country where starvation is an epidemic problem.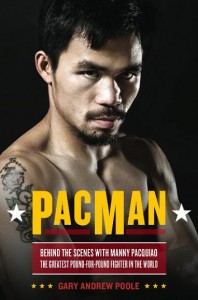 Floyd Mayweather Jr should take the time to read Manny Pacquiao's biography book. It may help him understand the turmoil Manny had to go through from where he was before, to where he is now. What maybe Floyd Mayweather Jr's problem is he doesn't understand the type of poverty where Manny had to live through. He clearly doesn't understand the Filipino culture or more importantly the Asian culture. Where boasting, bragging, and narcissism is considered to be very dishonorable shameful behavior.  Losing face in an Asian culture is taken very seriously, and it can bring shame to the person them self and to his family and friends. Floyd Mayweather Jr should take some time and read Pacman's new book, and spend less time showing off his expensive $50,000 Ipod cover or showing off bricks of Benjamins. Floyd said in his recent interview he has nothing against Manny Pacquiao. Maybe he should take the next step and try understanding the Pacman, Maybe reading the book, will inspire Floyd to be a better person but that is simply wishful thinking for The Superstar.
Got an Opinion? Submit Your Articles and Press Releases to be posted on NowBoxing.com
*Please refrain from leaving any Racist, Profane or Derogatory comments*