This past weekend European Gold Medalist Luke Campbell's pre-Olympics campaign got off to a flying start, at the first major amateur tournament of 2011 the Bocskai Memorial Tournament in Debrecen, Hungary.
Luke, who in 2009 won the European Gold on his first attempt , beat local favourite Krisztian Nagy 8-5 to secure his first title of the year, as well as to further assert his position as favourite for the Team GB 56kg selection at the London 2012 Olympics.
The end of the first round see Luke 1-0 down, despite landing many excellent shots. Not to be deterred Luke turned on the style and took the fight to the Hungarian and what ensued can only be described as a boxing
masterclass by Luke, to not only pull the scoring level but by scoring with four blows took a single point lead into the final round.
Luke's boxing masterclass continued in the final round, where again he picked up four points, to secure the win by a tidy 8-5 margin.
Speaking on the phone earlier today Luke spoke of the tournament and his winning performance. "Yeah it was good to get four fights in four day. I had four fights on the trot, I've never done that before. It was good, I felt good in each fight to be honest with you and I could have gone a fifth time.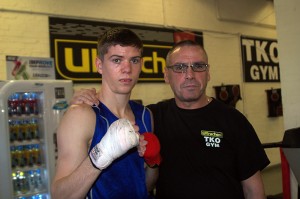 There's no problem with my fitness, this proved it as I could have easily fought for a fifth time, which is good news to know I could do that, especially against four world class opponents.
I beat the first kid 7-1 and I put him down on the canvas as well. I beat the second kid 7-1 as well and then I beat the Romanian in the third fight who beat the Russian in the fight before me so that was good.
The final was 8-5, the five scoring was obviously because he's the Hungarian Golden Boy. They wanted him to win but I fought better and won the fight.
Every outing for Great Britain, since my hand injury, I have won which is good as they were tough tournaments. I've put in excellent performances and bought home the Gold each time.
I'm really pleased, there's no problems with my hand now, there's no problems full stop. My confidence is growing all the time. Obviously winning these tough tournaments my confidence is growing all the time. Hopefully I'll keep the momentum going, make further improvements and get better and better. I'll keep working my way up.
I'm working really well with the coaches and the team at the minute. I seem to be progressing all the time and my boxing is getting better."
Got an Opinion? Submit Your Articles and Press Releases to be posted on NowBoxing.com
*Please refrain from leaving any Racist, Profane or Derogatory comments*