By Gary Purfield
Main Events Promotions hosted a press conference Thursday to announce their plan to begin hosting the Brick City Boxing Series at the Prudential Center's Amerihealth Pavilion in Newark, NJ. The Pavilion is attached to the main building of the Prudential Center where Main Events has hosted multiple cards including the popular Tomasz Adamek.
Beginning in May of 1978 Main Events made its name in boxing by hosting more than fifty cards at an Ice Rink in New Jersey called Ice World. The show eventually was featured on ESPN and the final card in 1986 was on ABC. During that time well known fighters and future champions including Buddy McGirt, Mark Breland, John John Molina, Vinny Pazienza, Chuck Wepner, Bobby Czyz, and many others appeared on the Ice World cards as they made their names as fighters.
Duva stated "we sold three thousand tickets to each fight. It turned into for a few years a true phenomenon on the national boxing scene" in speaking about the Ice World shows.
Now Main Events will return to this format and to the ice hosting four to six cards a year at the smaller more intimate Amerihealth building within the Prudential Center where the National Hockey League's New Jersey Devils practice. This will provide talented but young fighters the opportunity to begin their careers against quality opposition, stay busy, build a local fan base, and eventually graduate to the main building of the Prudential Center and possible title fights.
Kathy Duva was proud of the original Ice World Series and looking forward to the new version.
"If young fighters have to wait for big shows with 10 – 20,000 fans in attendance, they're not going to get to fight very often. This (AmeriHealth Pavilion) is going to be our incubator: our lab where we're going to build up talent; and give guys the kind of fights they need to develop; and become great pros; and not get rushed into fights they're not ready for; not get put in with stiffs who are going to fall down when they breathe on them. It's simply going to be a place where we can put guys in the kind of fights that they need to learn and grow, and develop as pros so that they can become champions, the way the list of champions from Ice World did. This venue gives us the opportunity to do that."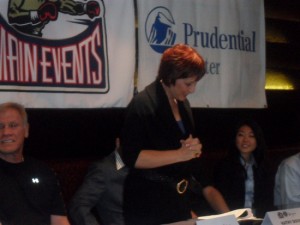 The Series will begin Saturday March 5 with the main event between Zab Judah and Kaizer Mabuza for the IBF junior welterweight championship topping the card. In addition to the title fight main event several talented young prospects will be featured on the undercard. With Zab Judah busy in Las Vegas training with new trainer, former world champ Pernell Whitaker, the press conference today focused on these young fighters giving them an opportunity to speak about their upcoming bouts on March 5.
In the co-main event 2008 USA Olympian and rising prospect Sadam Ali 11-0 (6 KO) takes a step up in competition taking on Juliano Ramos 16-4 (13 KO). I had the opportunity to speak with Ali about his style, his changes from the amateur to pro-level, and what he still needs to do going forward to become a champion.
"It's hard to explain my style I know I am exciting, could be a boxer, could be a banger. I got power, I got speed. I got to adapt to the fighters and I see myself being a world champion.
On changes from the amateur ranks to know "I am starting to sit down on my punches more. I am more aware in the ring because in the professionals the gloves are small and you have no head gear so it is a good thing I can take a punch; but the thing is you don't want to take a punch so I want to make people miss and make them pay"
On what needs to happen going forward to reach his goal of a world title. "More experience of course, learning everything, and going the rounds". Ali states in three scheduled eight rounder's he has only gone the distance once but is confident going the to the championship rounds in the future. "I work hard in the gym and I got my own gym now. Even though everyone loves seeing knockouts and I love giving those knockouts of course I would go for it but it's not bad having those rounds in."
The 2010 New Jersey Golden Gloves champion Vinny O'Brien will make his pro-debut against David Navarro of Philadelphia. O'Brien is trained by Lou Esa who fought as a heavyweight in the original Ice World cards. Speaking with O'Brien he discussed his style and what he has done in training to be prepared for the world of small gloves and no head gear.
" I'm a stalker, I like to stalk and push the fight, push the aggression." "My style has completely changed where I am a lot smoother, a lot slicker. I can move, I can fight, I can brawl, I can do whatever I need to get that win". On moving to the pro-ranks O'Brien stated "you got to slow things down in the ring, you can't be so fast paced, and pick your shots".
Middleweight Tarvis Simms 26-1-1 (11 KO) who will be fighting John Mackey 13-5-2 (6 KO) was scheduled to attend but unable to show due to transportation issues. Simms whose only loss is to Alan Green has his eyes on a future title opportunity.
Five time Golden Gloves winner Shemuel Pagan 1-0 will have his second pro-fight against a to be determined due to the scheduled opponent pulling out. Pagan stated "every fight I will perform better."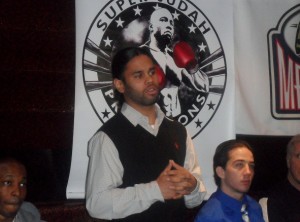 Dong-Chul Yun 9-4-1 (7 KO) is making his first appearance in the USA after fighting his previous fights in his home country of South Korea. Through a translator Yun stated "he wants to show you not only a winning fight, but more of an exciting, full fight."
Zab Judah's brother Joseph Judah 5-1 (1 KO) who is taking on Greg Hacket of Chester, PA 2-5 added some bravado and humor to the event stating "get your tickets and get there early, because I'm going on early and he's going out early."
In addition to seats two standing room sections at either end of the rink will be set up where fans can watch the fights and mingle amongst each other. Kathy Duva felt "this will be a nice social place to be. Once they come once that is where they will want to be".
Tickets are currently on sale for what should shape up to be a good card. Judah and Mabuza should be a good title fight and fans will have the opportunity to see former Olympian and prospect Sadam Ali as well as several other talented prospects from the New York/New Jersey area.
Question, comment, agree, disagree, or anything at all, send it to gpurf3@hotmail.com
Got an Opinion? Submit Your Articles and Press Releases to be posted on NowBoxing.com
*Please refrain from leaving any Racist, Profane or Derogatory comments*