Exciting London based Dutch Cruiserweight prospect Mitchell Balker is to make his third UK outing, against Doncaster's John Anthony, at the Steve Goodwin promoted 'UNLEASH THE FURY' event at York Hall in Bethnal Green, London, on Saturday 5th March 2011.
Balker's performance on his last outing, against Nick Okoth at the excellent Graham Earl promoted 'Capital Punishment' Event in January, was pure quality.
Balker's savvy ring craft proved to be too much for 'The Ox'. Right from the start Balker controlled the fight utilising crisp jabs to keep Okoth on the defensive before moving in to land solid jabs and right hands before stepping aside to thwart any return salvos from the heavy handed Okoth.
Round two see Okoth charge from his corner before swinging wildly in a effort to gain a semblance of control. Balker kept calm and stayed out of trouble by moving out of range and occasionally letting rip with clinical lefts and rights that slowed the advancing Okoth considerably.
Round three see Balker step things up a notch and just plain out box Okoth with crisp jabs and wicked combinations. Each time Okoth advanced Balker would let him back him onto the ropes before spinning Okoth and launching a controlled attack of his own. Often to the head but sometimes with a peach of a three punch combination that ended with a solid left to the body.
Round four was more of the same and it was no surprise that come the final bell the referee declared Balker the winner by a clear 40-36 points margin.
Following a training session at the Ultrachem TKO Boxing Gym in Canning Town, London, Balker spoke of the bout with Nick Okoth as well as the upcoming fight with John Anthony, "As always I am in good shape, I'm always in the gym . I'm ready for it, I'm ready to go.
I enjoyed my last fight against Nick Okoth. I had good training, I did what I was supposed to do. Good Boxing, crisp good jab and yeah I did a good job.
On the 5th what you are going to see is Mitchell Balker in top condition and I'm ready to go. If it goes longer rounds, then I'm ready to go longer rounds. If it's an early stoppage, then it's an early stoppage. I'm just happy to fight again.
I've been sparring with good guys. I've been sparring with Manny (Emmanuel Oshunrinde), our very own Manny Pacquiao, I've sparred with Leon (Southern Area Cruiserweight Champ Leon 'Solid' Williams), I sparred today with a Heavyweight, I sparred with Caine (Caine Brodie). Caine will be on the same show.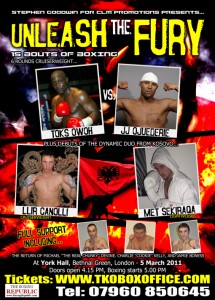 TKO is a very good gym, very good gym for sparring. I spar three or four times in a week. You've got terrific sparring here. TKO gym is a good gym for sparring.
Let's just make a good show of it. Lets have Caine win and me win. It's a good thing, a good thing."
Johnny Eames, Balker's manager and co-trainer, then added, "Mitchell is in action again on the 5th March against John Anthony.
We're really pleased for Mitchell, our TKO Box Office site has enabled us to give Mitchell a couple of fights as the house fighter which I think all prospects, which I consider Mitchell a prospect, deserve to be the house fighters.
I'm pretty certain from his attitude and his application and his training that he'll put in another good performance. You know and then if myself and Rio can keep him in the house corner, through our TKO Box Office site, then so be it and I'm sure he'll prosper from it.
Yeah, I'm pretty certain it'll be another good win for Mitchell."
Mitchell Balker versus John Anthony will be main support to Toks Owoh versus Billy Boyle at the Steve Goodwin promoted 'Unleash The Fury' event at York Hall, Bethnal Green, London on Saturday 5th March 2011.
The Unleash The Fury undercard features some of London's best upcoming talents and including Balker's Ultrachem TKO Gym mate 'Dynamo' Daryl Setterfield against Birmingham's Andrew 'Paddy' Patterson.
Minster. Kent Light Heavyweight Dan 'Woody' Woodgate gets his third outing against Retford's Lee Nicholson and Waltham Abbey Light Welterweight Phil Gill looks to take his unbeaten run to ten against Aysham's Scott Moises.
Luton Lightweight Michael 'Chunky' Devine makes his welcome return to the ring, following his coveted '0' to Mark 'The Flash' Alexander last year, and will be looking to get back to winning ways against the highly experienced Daniel Thorpe.
Biggleswade Light Middleweight Jamie Boness will be looking to extend his unbeaten record against Guildford's Louis Byrne and Woolwich Super Middleweight Eder Kurti faces Welsh banger Jamie Ambler.
Unbeaten, in twelve, Hackney Middleweight Wayne Alwan-Arab is set to face Tooting based Bulgarian Danny Dontchev.
Another of Balker's Ultrachem TKO gym mates, Caine Brodie, also features on the card against a yet to be named opponent.
Making their pro debuts at 'Unleash The Fury' are Harlesden Lightweight Met Sekiraqa, against Robin Deakin and former World Kick Boxing Champion, Llir Canolli, from Cosavo, against a yet to be named opponent.
Tickets for Unleash The Fury at the York Hall, Bethnal Green, London on Saturday 5th March 2011 are on sale now – priced £35 (Unreserved) or £60 (Ringside).
For tickets call: 07960 850645, book on-line at www.tkoboxoffice.com or in person at The Ultrachem TKO Gym, Gillian House, Stephenson Street, Canning Town, London E16 4SA.
Got an Opinion? Submit Your Articles and Press Releases to be posted on NowBoxing.com
*Please refrain from leaving any Racist, Profane or Derogatory comments*