By Gary Purfield
Hall of Fame promoter Russell Peltz provided Philly fight fans with an old fashioned clash between two born and raised Philadelphia fighters as the main event to a seven fight card from Ballys Atlantic City. The card was well received with several action packed fights in front of the packed house in Ballys Grand Ballroom.
The main event was an inner city war between "King" Gabe Rosado of North Philadelphia and Jamaal "Da Truth" Davis of West Philly. The two local products would be looking for a victory but also to provide fans with a small window into the past to time when Philly fighters provided regular thrillers.
Frankly I am too young to have been around when Philadelphia was one of the fight capitols of the country. I only get to hear of the legendary days of fights in the spectrum and great Philly middleweights. So a night like this covering an all Philly clash from ringside was a chance for me to experience a small piece of what Philadelphia was once so well known for.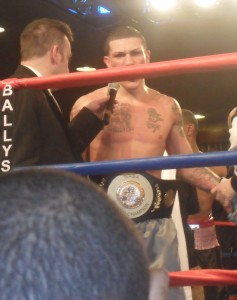 Fortunately the participants tonight did not disappoint. Rosado and Davis provided a great fight for those who made their way to the shore for Peltz Boxing's night of fights.
The opening rounds were tactical as Davis used his speed advantage to take round one by moving in and out and controlling the ring. Rosado began using size and pressure in round two when he would begin piling up the next several rounds. In round three Rosado began to time his speedy opponent and landed several straight right hands as Davis advanced. As the rounds went by Davis was circling the ring more and punching less. Rosado continued his push forward but could not quite cut off the ring to do serious damage although he was winning the rounds.
Davis seemed to come alive some in rounds six and seven likely sensing he was falling behind on the cards he landed flurries of punches while moving in and out. Even in his best rounds Davis did little real damage to Rosado who was clearly the bigger man. When the two were in close it appeared a junior middleweight in Rosado was pushing around a welterweight.
In round nine the action went up a notch. Early on Rosado landed a low blow dropping Davis to the mat. Once he got it together the fight was on. The two Philly warriors traded in every part of the ring. The heated action continued through rounds ten and eleven with several exciting rounds that were difficult to score and may have brought the fight much closer on the cards.
The final round started with both fighters coming after each other to end things in style. While the speedy Davis was getting his shots through the bigger man Rosado was landing the heavier blows.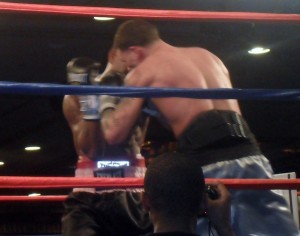 Then Rosado closed the show making sure the judges would have no say in the outcome by landing several punches that sent Davis reeling into the corner stunned. Sensing his opponent was on weak knees and ready to go Rosado poured it on the referee stepped in to stop the fight. The TKO victory for Rosado 16-5 (9 KO) came at one minute and one second into the twelfth and final round. Davis 12-8 (6 KO) gave a great effort but in the end was simply beaten back by a bigger and stronger fighter. With the victory Rosado gains the NABA interim junior middleweight title.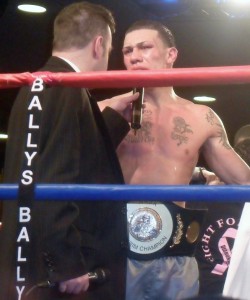 Afterwards Rosado discussed several points including his desire to put on fights that fans enjoy when they pay their hard earned money and how this fight was helpful on moving past the loss to Ennis where he felt he won or at least deserved a draw. Win or lose Rosado has become a piece of the past for the fighting city of Philadelphia.
Cruz Stays Undefeated with 3rd Round KO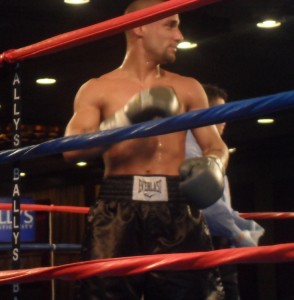 Ronald Cruz remained undefeated improving to 11-0 (8 KO) with a dominant third round TKO of Dillet Frederick. Cruz was supported by an enthusiastic contingency of fans looking to see the Bethlehem Pennsylvania native.
Cruz started strong feeling out his opponent in the first round while also letting his hands go to land heavy combinations. In the third round Cruz landed a series of shots including a left hook to the head and body sending Frederick stumbling to the canvas. Frederick, now 7-4-3 (4 KO) tried to get up but wobbled and went back down. As he tried to get up again with no legs the bout was called off at two minutes of round three.
Cruz again showed he has heavy hands and comes to provide an action packed fight. He sits down on his punches and throws with power. Cruz also shows an ability to throw from multiple angles mixing in various shots including a sharp right uppercut and hard left hook. His aggressive style should mean he will continue to grow his local fan base as he continues his rise through the junior welterweight division.
Under Card Report
Julio DeJesus and Hector Collado provided the action packed brawl of the night. Both fighters hail from New Jersey and fought as if the other one had stolen his lunch money way back when. They had no trouble finding each other standing toe to toe in the middle of the ring throughout the four round junior welterweight war. They traded punches with bad intentions and had little use for defense of any kind unless you call strong will and heart defensive strategies.
In the end Dejesus came out on top with a unanimous decision by scores of 39-35, 39-34, 39-34. The fight was closer than the scores appeared but multiple knockdowns provided the wide scoring.
In round one they traded thudding blows evenly until DeJesus dropped his opponent with a flush straight right at the end of the round. In round two Collado stunned DeJesus who looked like he was ready to go and very unaware of his surroundings. As Collado fired away to take advantage he made the classic mistake of abandoning all defensive maneuvers. With the barrage continuing DeJesus decided turn his luck when he landed a straight right dropping Collado and turning the round. Round three again was close but then Dejesus scored a knockdown at the end of the round which was as much from Collado being off balance as anything else. Round four provided another exciting stanza with the two beating each other in what could have been an after school parking lot brawl that happened to end up in a boxing ring. The crowd loved the action and cheered away the entire final round.
Philadelphia's Bryant Jennings outworked Theron Johnson in six round heavyweight bout to win a unanimous decision by scores of 59-55, 60-54, and 60-54. Jennings who improves to 6-0 (3 KO) controlled from start to finish steadily applying more pressure to Johnson who drops to 5-4 (1 KO).
Tyrone Luckey improved to 3-0 (3 KO) by stopping Gustavo Dailey 4-11 (1KO) in the final round of a four round junior welterweight bout. Luckey controlled the fight stalking Dailey around the ring. Luckey used his jab and straight shots to control the ring and avoid Dailey's wide looping shots.
Both fighters came out to close the show in the fourth firing big shots. The Middleton New Jersey product Luckey landed sending Dailey staggering into the ropes. He likely would have went down but found himself sitting on the ropes. Luckey moved in to finish and the bout was stopped at one minute and twenty seconds of round four. The Philadelphia product Dailey was unhappy with the stoppage feeling he could have continued.
In the opening bout Tommy Garcia scored a third round TKO over Paul Fernandez in a scheduled four round featherweight clash. Round one was relatively even and Garcia got the better of some exchanges in round two. Then in round three, Garcia, coming from Hartford Ct landed several shots on the Philly native sending Fernandez reeling into the ropes. Garcia followed up while Fernandez tried to hold on. After braking Garcia continued the pressure forcing the referee to call a halt at 49 seconds of the third round. Garcia improves to 3-3 (2 KO) while Fernandez drops to 5-4-2 (3 KO)
In the walk out bout DeCarlo Perez 3-0-1 (1 KO) took away a unanimous decision victory over Dontre King 3-9-2 (1 KO).
Got an Opinion? Submit Your Articles and Press Releases to be posted on NowBoxing.com
*Please refrain from leaving any Racist, Profane or Derogatory comments*