Steve Goodwin steps up big time to celebrate his one year anniversary, as a boxing promoter, by staging two huge shows in March.
The first, 'Unleash The Fury' at York Hall, Bethnal Green, London on Saturday 5th March features former Super Middleweight supremo Toks Owoh against Billy Boyle and is supported by a top class eleven bout card that includes the return of the magnificent Michael Grant and another chance to see sensational Dutch Cruiserweight prospect Mitchell Balker in action, plus much, much more.
Now whilst 'Unleash The Fury' looks set to be one of the best boxing events to take place in the Capital so far this year, it has already been covered at length over the past weeks and as such will concentrate on the Dagenham show.
Steve Goodwin's planned 'Essex Eruption' super show at the Goresbrook Leisure Centre, Dagenham, Essex, is just two weeks after 'Unleash The Fury' on Saturday 19th March and at this point looks set to be an even bigger event than the York Hall one.
The Quadruple Headliner, yep that's right Steve is putting on such star studded card that it has no less than four co-headline bouts, supported by ten exceptional undercard bouts, that features the cream of young prospects from London and the Home Counties.
Rather than give a rundown on the card I'll leave that down to the man himself, Steve Goodwin, who recently stated, "Part two of my one year anniversary celebration is a huge show, with thirteen or fourteen bouts, at the Goresbrook Leisure Centre in Dagenham on March 19th.
It's set to be one of the best shows of the year. Officially it's a triple headline show but we've just got another big fighter sign on to make it a quadruple headline.
We've got Yassine El Maachi back, since beating Jimmy Colas. We want to move Yassine up this year, we haven't decided who he's going to be boxing yet. There is the possibility for the Southern Area if we can find a suitable opponent, someone that'll want to box him for it. That's a difficulty as you know.
There is a possibility of bringing someone in from abroad. Were going to sit down with Yassine and his trainer Don Charles in the next couple of days and formulate a plan for him for this year and we've heard from Yassine there could be a Prizefighter coming up in May so we will be clamouring for him to be on that. We don't want people to avoid him as we think it is his time and we can demonstrate to everybody that he can demolish them all at Welterweight, because he's happy to drop down if needs be.
So with Prizefighter being potentially there to be made he may be able to demonstrate again that he is World class.
So if the Prizefighter is on in May he'll go for that and if not our next show will be in May or June and he'll go on that and possibly take on a bigger task.
Co-headlining we've got local star Tony Conquest from Romford, who has just broken into the top ten Cruiserweights in the country. He's looking to move up to championship contention in the very near future.
We've also got Newmarket's Pat McAleese, and excellent prospect who was unfortunately knocked out in his last fight. Until the knockout he was eight rounds up on points. He's a very exciting fighter and is on the come back trail and will be looking to fight for another title very soon.
We're really excited to also have Southern Area Cruiserweight champion Leon Williams now on the show. We all know what an exciting fighter he is. He is another who will be looking to make a statement on the 19th as he pushes for a shot at the British title later in the year.
Supporting the big four we've got some of the best local talent, there are some serious prospects looking to make a big statement at Dagenham on the 19th March, including Woodford Green's Michael Norgrove who is unbeaten in four. Michael faces his toughest challenge to date as he fights in his first International contest against the tough Czech Jan Balog.
Johnny Eames's Ultrachem TKO Gym, who in addition to having Leon and Pat on the show, have three of their very brightest young prospects on the show.
First of these is Stevenage's Daniel Herdman, who will be fighting Kevin McCauley. At our last show Daniel put on a fantastic show, he out-boxed Ryan Clarke to take the well deserved win.
Now, we're really excited that Johnny has his sensational featherweight prospect George Jupp make his first outing of the year on our show.
Last year George became only the second person to stop the durable Pavels Senkovs, in thirty fights Pavels has only been stopped just the once previously, and that was a clash of heads. That's pretty impressive for someone that's just 20 years old. George is a big talent.
Last, but not least, of the TKO fighters is Carshalton's Ricky Boylan, who will be looking for his second win of his young career when he comes up against Kristian Laight on the 19th.
We've got unbeaten prospect Jamie Boness looking to increase his tally to five and we've got Romford Light Heavyweight Billy Slate looking to make up for the disappointment of losing, by a close points decision, to Jack Morris at the recent Prizefighter event.
Also looking to make up for the disappointment of losing recently is Rainham's Richard Hines, Richard was stopped on his debut by Scott Moises at our York Hall show last December. Up until the stoppage Richard was a country mile ahead on points. I'm sure we will get to see him get his first win on the 19th.
March 19th also sees Kris Agyei-Dua and Danny Brown in their second professional fights, having both won their debut fights on Miranda Carter's show on Sunday.
The Dagenham show is going to be packed to the rafters as you can see it's going to be a very exciting night of boxing, if not one of the best nights of boxing of the year so far."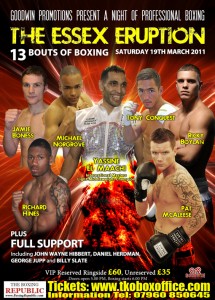 Tickets for ESSEX ERUPTION at the Goresbrook Leisure Centre in Dagenham, Essex on Saturday 19th March 2011 are priced £35 (Unreserved) or £60 (Ringside) and on sale NOW.
For tickets book on-line at www.tkoboxoffice.com, call: 07960 850645 or in person at The Ultrachem TKO Gym, Gillian House, Stephenson Street, Canning Town, London E16 4SA.
Also available at TKO Box Office are tickets for the UNLEASH THE FURY at the York Hall, Bethnal Green, London on Saturday 5th March 2011.
Got an Opinion? Submit Your Articles and Press Releases to be posted on NowBoxing.com
*Please refrain from leaving any Racist, Profane or Derogatory comments*