By Gary Purfield
Fighters: Mike "MJ" Jones 23-0 (18 KO) Orthodox fighter from Philadelphia, PA and Jesus "Renuente" Soto Karass 24-5-3 (16 KO) from Los Mochis Mexico and currently residing in Los Angeles, CA in a rematch of the controversial majority decision victory for Jones last November.
Where: Mandalay Bay Resort and Casino Las Vegas, Nevada
When: Saturday February 19, 2011 9:45pm
TV: HBO Boxing After Dark, Jones-Soto Karass will be the opening TV bout prior to the main event of Nonito Donaire vs. Fernando Montiel
Last fight: Jones beat Soto Karass by majority decision in the first fight; neither has fought since their fight last November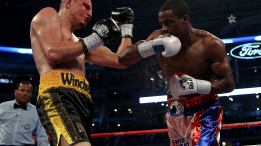 Last November on the undercard of the PPV Manny Pacquiao vs. Antonio Margarito card rising welterweight Mike Jones out of Philadelphia got his first opportunity to show his abilities on the big stage.  Jones took on veteran Jesus Soto-Karass.  In Soto Karass Jones was getting a tough but limited fighter.  It would be a step up in competition with the opportunity for an impressive win in front of a large audience at Cowboys Stadium and on TV.
Early on it appeared Jones would get the showing needed to raise his stock.  A little past the halfway point of round two Jones startled Soto Karass with a right uppercut and then sent him staggering back from an overhand right.  Sensing the opportunity for highlight KO win Jones advanced to finish his opponent.
What followed turned out to be the biggest mistake of the young Philly fighter's career and one that nearly cost him dearly.  Likely caught up in the moment of being the co-headliner of a major PPV under Manny Pacquiao, Jones began punching non-stop for the next minute.  With his shoulders squared he threw more than forty straight power shots but was unable to finish the tough Mexican fighter.  By the end of the round Jones had emptied the tank and was running on fumes.  Soto-Karass who had been near finished a minute earlier was in control of the tired Jones at the end of the round.
Round 2 http://www.youtube.com/watch?v=t9IfJmtZ6ds
Jones spent the next three rounds on life support as Soto-Karass teed off on the spent contender.  Jones began to gain back some momentum in the seventh and by the eighth round he had gotten his legs back.  Jones regained control by the eighth and was able to get back to his game plan boxing his opponent for the last three rounds.  He managed to do enough in the judge's eyes to win a majority decision 95-94, 97-93, and 94-94.  I had it a draw 95-95 with each guy getting five rounds.  Jones took rounds 1, 2, 8,9,10 and Soto Karass taking 3-7.  Many felt Soto-Karass had done enough to win and at the very least Top Rank CEO Bob Arum who promotes Soto-Karass and co-promotes Jones with Peltz Boxing felt an immediate rematch was appropriate.  That brings us to part two this coming Saturday.  Let's take a look at the specifics.
Boxing ability:
Jones has the advantage in virtually every way when it comes to boxing skill.  He is taller with a longer reach.  He uses a sharp jab to keep shorter foes at a distance but can fight on the inside with a right good uppercut and left hook.  Jones throws the straighter punches to Soto Karass who throws more looping punches.  Jones has better footwork and movement to set up his punches and avoid being hit.  Simply stated Jones is the boxer to Soto Karass who would be considered the brawler.
Physical:
Judging by the first fight it would appear Soto-Karass is the better conditioned fighter to maintain pressure over the ten rounds.  Although Jones has the impressive physique while Soto Karass is the thin wiry type but don't read too much into the body appearances or what happened in the first fight.  Jones usually is able to maintain a good pace into the late rounds and simply punched himself out in that second round.  Jones hired strength and conditioning coach Danny Davis who also works with Bernard Hopkins which should help him maintain a good pace into the deep waters.  Soto-Karass as always will come to fight and is well conditioned.  This category breaks even.
Power:
Neither guy is a one punch knockout artist but both can hurt their oppoents and produce the knockout.  Each had the other hurt at points in the first fight and the same can happen again in the rematch.  Another break even category as both can do damage.
Speed:
Jones is the faster fighter hands down.  He moves well on his feet and has very fast hands.  He uses a quick jab and can throw his combinations with speed as well.  Soto Karass is a stalker who plods around the ring to bottle his opponent and speed is not part of his arsenal.
Defense:
Jones is not a defensive master but uses fast reflexes to avoid being hit.  He will also pull into a tight turtle shell which is effective for him when his opponent is firing multiple punches.  Soto-Karass employs the defense of a hard head which is to say he is very easy to hit but fortunately for him he has a great chin.  Although he can handle a punch he cuts easily and was stopped by Alfonso Gomez on cuts for a technical decision loss.  Jones has the clear edge on D.
Chin:
This belongs to Jesus.  Jones threw everything in the kitchen sink at him in round two of the first fight and despite being rocked with flush shots multiple times he stayed on his feet and recovered quickly.  Jones showed his heart and a better chin than some gave him credit for surviving the assault from Soto Karass in the middle rounds but he has not shown yet he can take the same punishment of his Mexican opponent.
Experience:
Soto Karass has fought thirty three times as a professional to twenty three for Jones but in those fight Soto Karass has gone 221 rounds to only 96 for Jones.  This gives the Mexican an edge in experience in the ring.  Soto Karass has also been in the deep waters multiple times and has more experience dealing with adversity in a tough fight.  In looking at their opponents Soto Karass has a slight edge in level of competition but other than a win over David Estrada he has lost when stepping up in competition including losses to Alfonso Gomez, Yuri Foreman, and Freddy Hernandez.  Jones has been moved along carefully to get experience and handled Irving Garcia well but as mentioned struggled due to a mental error in his first big step up against Soto-Karass.  The edge goes to Soto Karass but not by much.  Jones is a smart fighter and got great on the job training in the first fight.
Wear and Tear:
While Soto Karass has the edge in experience what comes with his 221 rounds of hard fought battle in a face first style is wear and tear.  Jones on the other hand has not been in any dragged out fights or taken a beating from anyone.  Edge clearly to Jones.
Keys to Victory
Mike Jones:
Fight your fight which means box.  Jones is the better boxer, he is faster, taller, stronger, and has basically every other advantage.  He needs to simply use his abilities to slowly break down a less talented opponent
Do not jump the gun again trying to knock out someone who does not get knocked out.  Work the body and the head to wear down your opponent, open cuts on Soto-Karass who cuts easily, and build a wide margin on the scorecards without looking for the knockout.
Jesus Soto Karass:
Turn the fight into a brawl.  Attempt to force Jones into a war that involves little defense or strategy.  Keep the fight on the inside taking away the significant reach advantage Jones has.
Constantly pressure and stalk Jones.  Soto Karass needs to push Jones past his stamina again and make him have nightmares about the last fight.  This can only be done if he is moving forward pushing Jones backward making it more likely he will tire.
Prediction:
This time will not even be close.  Jones made his rookie mistake going for broke against a fighter who is limited but has a granite chin punching himself out.  Understandable mistake considering for the first time he was fighting in front of a live audience of more than 40,000 and more than a million on PPV.  He will not make the same mistake this time.  Look for MJ to use his stiff jab to push Soto-Karass back.  Everything will work from there as Jones will easily land his long straight right from the outside and drill his opponent with the left hook and right uppercut when he attempts to fight in close.  Soto Karass will try and be the man moving forward but Jones will stop him in his tracks with the jab leaving his opponent exposed and open to eating leather all night.
This time if Soto-Karass is hurt Jones will continue to methodically work his opponent especially to the body instead of going for broke.  Better conditioning with his new strength trainer will allow Jones to continue punishing his opponent without losing steam.  By the sixth or seventh round Soto-Karass will be worn down and possibly cut in several areas.  Look for a very wide unanimous decision win for Mike Jones or possibly a late stoppage due to cuts. The Mexican warrior Soto Karass will not give in at any point or submit but the large gap in skill and athletic ability will make this a one sided affair.
Watch Video of  Their Past fights:
Jones vs. Soto Karass 1
http://www.youtube.com/watch?v=kS-G-LCkMbc
Jones vs. Hector Munoz (Jones dominated lesser foe to stoppage)
http://www.youtube.com/watch?v=BgExLRLRfUw
Jones vs. Henry Brussels (Jones had to box his veteran opponent)
http://www.youtube.com/watch?v=8iz9mYKAY8A
Soto Karass vs. Alfonso Gomez (Partial)
http://www.youtube.com/watch?v=aKw_9Co9ywM
Soto Karass vs. Carson Jones
http://www.youtube.com/watch?v=vIt9OBUWn2I
Question, comment, agree, disagree, or anything at all, send it to gpurf3@hotmail.com
Got an Opinion? Submit Your Articles and Press Releases to be posted on NowBoxing.com
*Please refrain from leaving any Racist, Profane or Derogatory comments*