By Gary Purfield
Zab "Super" Judah 40-6 (27 KO) Las Vegas, NV from Brooklyn, NY-Southpaw and Kaizer Mabuza 23-6-3 (14 KO) Johannesburg South Africa-Orthodox for the vacant IBF Junior Welterweight Title.
Where:
Amerihealth Pavilion Prudential Center Newark NJ
When:
Saturday March 5, 2011
TV:
Integrated Sports PPV-undercard featuring US Olympian Sadam Ali, Tarvis Simms, Shemuel Pagan, Joe Judah, and Vinny O'Brien
Last fight:
Judah defeated Lucas Matthysse by split decision on 11-6-2010
Mabuza defeated Kendall Holt by 6th Round TKO on 2/27/10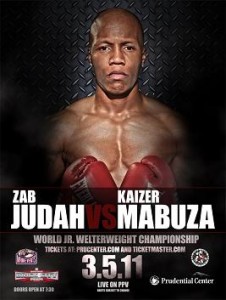 Zab Judah returns to a junior welterweight title fight more than eleven years after he won his first major 140lb title, ironically the IBF strap which he will again fight for this Saturday.  The once golden prospect with so much potential lived up to his abilities in some ways and in the eyes of some fell short of his vast potential.
After several years at welterweight Judah is now back at 140 where he is better suited and back with his original promoter Main Events.  He faces the rugged tough fighter Kaizer Mabuza from South Africa.  Let's break down the key aspects of Saturday's title fight and keys to victory.
Boxing ability: The advantage here goes to Judah in virtually every aspect.  He is the more polished technician with the ability to box inside and out.  He throws crisp straight punches as well as anyone when he is on.  Judah can fire single shots in and out or launch multiple shots at rapid speed.  Judah can move in either direction, work from angles, but also possess the ability to stand toe to toe when needed.  Learning from a master like Pernell Whitaker can only help the already gifted technician.  Mabuza's punches are often looping and wide; he has a good jab but tends to paw with it at times.  Mabuza is very dangerous when he is right in front of his opponent but has trouble hitting someone on the move which is what Judah will likely do.
Physical: Mabuza has the size and strength advantage.  Judah is the superior athlete. When seeing Mabuza in the ring you wonder how he makes the 140lb limit.  He is a big and strong junior welterweight and will look to use his size to push Judah into the ropes.  For Judah he needs to make this a non-factor by using movement to avoid being worn down on the inside.  Judah's trainer Pernell Whitaker said it best in the phone conference when he stated Zab tried "gorilla" fighting and it did not work for him.  Judah would be well served not trying to stand in the pocket and prove his toughness in this fight.
Power: Both have power in different ways.  Mabuza can cause serious damage with an accumulation of shots when he makes his opponent stand in the pocket and fight.  Mabuza's shots are looping but when he gets his man cornered he can pound away to the head and body.  Judah has always had serious knockout power in both hands.  I give the advantage here slightly to Judah because he can deliver power shots on the move, standing in front, and from varying angles.  In addition Judah throws the straighter shots and can deliver his power punches with more speed and accuracy.
Speed: This one simple.  Few fighters in the world would be even par with Judah for speed in the hands or feet.  This is especially true for hand speed.  Zab has always had lightning fast hands.  He gets the clear edge in this category.
Defense: I would call this one even as both have strengths and flaws.  When Judah is focused he can be very tough to hit with his movement and exceptional reflexes.  The problems come when he loses focus or gets tired.  He tends to drop his hands and get pushed into corners.  Mabuza sometimes employs a good tight guard that is very effective for him similar to another African fighter that gave Judah problems Josh Clottey.  Then at other times he walks directly into his opponent with his hands down.  When he goes on the offensive he tends to ignore his guard to the point of squaring his body directly in front of his opponent leaving himself wide open for counters.
Chin: Mabuza has been knocked out twice but one was to former welterweight title holder Isaac Hlatshwayo in his first fight and the second came in 2003.  Since then his only losses have been by decision.  Not to mention anyone who fights Kendall Holt and remains on their feet must have a decent chin.  Judah is so exciting partly because he can deliver or be knocked out at any moment.  Judah did show a lot of heart and resiliency standing up and fighting back against Matthyesse after being knocked down in the 10th round of their fight.  That being said Judah has been stopped by pressure fighters such as Cotto so Mabuza gets the nod.
Experience: Not quite the wide margin as the speed category but Judah has a big advantage.  He has fought the best of the best at 140 and 147lbs. including Spinks, Cotto, Mayweather, and others.  He has not always won his biggest fights but he has a wealth of experience against elite competition.  Mabuza's resume does not have any of the names Judah has and he has several losses to names that are not well known.
Wear and Tear: The gift of experience usually comes at a price. Judah's wars with Cotto, Mayweather, twice with Spinks, Matthyesse, and others take a toll on the body.  Judah can combat this with a strong training camp that prepares him physically which according to Whitaker things have gone great (of course I am still waiting for a trainer other than Freddy Roach to say they have not had a great camp).  The ring wars could be a factor.  Mabuza has the edge in being the fresher fighter but he has been through some battles as well and is by no means a young fighter without ring damage.
Intangibles: This will be a battle between Mabuza's rough house tactics and Zab's composure.  Mabuza is going to play rough.  He likes to grab his opponents in close often around the neck and push them to the ground.  In the past these tactics would anger Judah and take him off his game.  Main Events and specifically CEO Kathy Duva have expressed how much more mature Judah has become.  He will need that composure and the guidance from Pernell Whitaker to stay focused and stick to his game plan no matter what tactics are employed by his opponent.
Keys to Victory
Zab Judah:
Box, move in circles, move your head, counter, punch in combinations and get away.  In simple terms, box the you know what out of your opponent so you look good and he looks bad.
Do not be on the ropes where Mabuza can deliver punches from a set stance.  In the same vein do not stand toe to toe in the center of the ring.  Mabuza needs to set his feet to load up and deliver punches so constant movement, circling and head movement should keep Judah from absorbing punishment (again Whitaker's comment, no proving you can fight gorilla style).
When the rough moments occur stay composed and listen to the advice of the expert you have in your corner
Kaizer Mabuza:
Pressure, pressure, pressure.  Mabuza will need to keep coming with no sign of slowing down and attempt to break his opponents resolve.
Push Judah to the ropes where he can set his feet and deliver power punches.  Do not allow Judah to circle the ring making it difficult to set his feet.
Prediction: Judah will open up fast, literally.  He will deliver rapid combinations that will punish his opponent to the head and body.  In the middle rounds Mabuza's pressure will begin to pay some dividends.  Judah will have one or two rough moments where he is feeling the heat and possibly even stunned.  In the end though his superior talent and skills will pull him through and his power shots and constant movement will have Mabuza tired as well in the late rounds when Judah will again take control of the fight in route to a unanimous decision.  I do believe this will be an exciting fan friendly fight with several momentum changes and would not be surprised at all if both men see the canvas at some point.  Styles make fights and this one pits a speedy slick boxer against a strong pressure fighter where both will look to impose their will on the other.
Question, comment, agree, disagree, or anything at all, send it to gpurf3@hotmail.com