By Gary Purfield
Main Events Promotions held an open workout for media Thursday for Tomasz Adamek as he prepares for his date with Kevin McBride on April 9 at the Prudential Center in Newark NJ.  The event was held at the Fernwood Resort in Bushkill PA the spot of his current training camp.  The Poconos in Pennsylvania provides a quiet spot that many fighters have used for training camps in the past.
Adamek spent over an hour displaying his skills and joking with everyone in the room during a laid back and often humorous workout.  Trainer Roger Bloodworth was also on hand and both spent time speaking with media during and after the workout.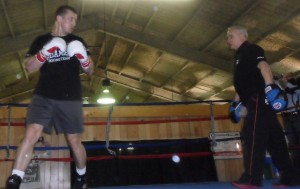 Adamek displayed his boxing ability complete with crisp footwork that has become part of his heavyweight style.  Bloodworth commented that when he first came on as Adamek's trainer two years ago Tomasz wanted to fight anytime someone hit him but in the heavyweight division it can end with one punch at any time so Tomasz had to learn not to be right in front of someone and work on his defense.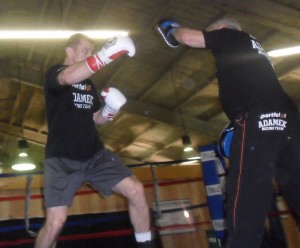 "When I first met him he just wanted to fight he didn't care too much about tactics.  In the heavyweight division you can't be at the wrong place at the wrong time".
In the time Adamek shadow boxed and hit the mitts he displayed circular movement in both directions, sharp turns to move out of range, and had good speed for a heavyweight.  Of course he maintains the power that has made him so dangerous throughout his career.  That power was evident when Adamek fired his jab, straight right and uppercuts from either hand.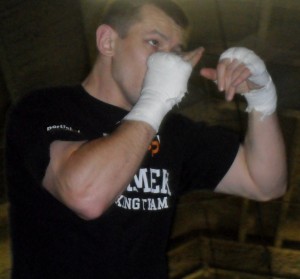 Bloodworth noted later that previously Tomasz had more of a European stand up style and moving well to his right but not to the left.  Bloodworth has been happy with Adamek's ability to learn a more American style of applying head movement and moving in either direction.  Adamek has maintained a sharp jab that is classic of European fighters and he returns his hands quickly to prepare for counter shots.
Adamek certainly feels more comfortable as a heavyweight.  He stated he is at his natural weight around 215lb.
"I have been training hard, two times a day, last week 215, I feel very good at this weight and fast"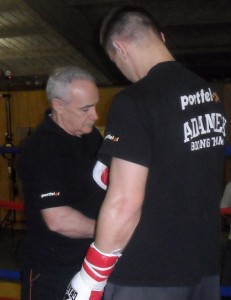 Adamek's next opponent Kevin McBride is meant to serve as a preparation fight for his signed showdown with one of the Klitschko's later this year.  Adamek talked on McBride and the comparison with the Klitschko brothers.
"Similar height but Klitschko's are faster, they are champions.  But this is good test for me, we had good camp, every day with Roger I feel better.  I think my career going up"
Even though he had the date with one of the champs Adamek realizes he cannot look past his next opponent.
"This is boxing, one punch can change the situation.  I am better fighter and I am going to be champion, that's my way.  This is my test for Klitschko".
Adamek lived up to his reputation as a true professional and overall polite person.  He was gracious with everyone present and spent time joking with anyone around.  Trainer Roger Bloodworth who was just as professional and gracious as his student has clearly developed a respect for Tomasz that extends beyond his boxing abilities.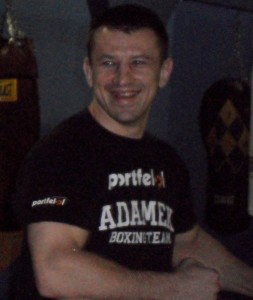 "He has a good sense of humor.  He is the kind of guy if you could pick your son it would be him.  He's honest, very strong in his church, and he loves to compete".
"What makes him special is his work ethic and his belief in himself.  He is very intelligent, he takes what you tell and him and he finds a way to do it".
So next up Adamek gets his final preparation against McBride before heading to Europe (likely the fight with a Klitschko will be in Poland or Germany).  In McBride he gets to continue improving his skills against a heavyweight that will have six inches and likely fifty pounds on the former light heavyweight and cruiser weight champion.  Adamek and Bloodworth certainly have confidence that the time is right for Adamek to take the top spot in boxing's glamour division.   Bloodworth even commented that after a recent birthday his ultimate wish was for Tomasz to defeat a Klitschko.  As long as he gets past McBride on April 9 he will get the chance to make his trainers wish come true.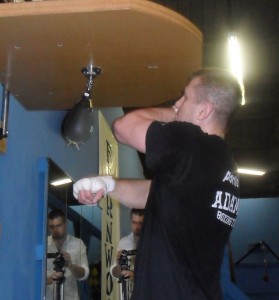 Video of Adamek's open workout

Question, comment, agree, disagree, or anything at all, send it to gpurf3@hotmail.com
Got an Opinion? Submit Your Articles and Press Releases to be posted on NowBoxing.com
*Please refrain from leaving any Racist, Profane or Derogatory comments*