Unbeaten Featherweight prospect 'Saint' George Jupp is set to face Harrow's Raffi Khan at the Steve Goodwin promoted 'Essex Eruption' – sponsored by Fists of Rage new to DVD movie – at Goresbrook Leisure Centre in Dagenham, Essex, this coming Saturday.
20 year old Jupp is proving to be something of a sensation on the London scene and is being tipped as a future champion by many local boxing luminaries, especially since his magnificent performance back in December, when he stopped the highly durable Pavels Senkovs.
Those in the know point to the fact that Senkovs had only been stopped once, in thirty fights, previously and that was the result of a cut from an accidental clash of heads.
Jupp's opponent Raffi Khan has only had one outing to date, when he traveled to Glasgow to face Michael Roberts in October last year. The reports that came back were exceptional with many saying that Khan was unlucky to lose the points decision – by a very close 57-58 margin.
On learning that his opponent on Saturday will be Khan, Jupp said, "I haven't  seen him and don't know too much about him. I only know he's had one fight and lost it.
It was a very close fight up in Scotland with Michael Roberts, who's a very good fighter. So Khan's obviously a very capable fighter so it should be a brilliant fight, I'm really looking forward to it.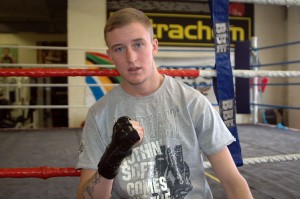 I know it's come late in the day but I've been training for whoever they could get for me. I'm fit and I'm on my game so it doesn't matter who they got for me I know I'm ready
I've been doing a lot of sparring with Kaash (Akaash Bhatia), I've also been sparring a couple of Irish boys from Graham Earl's camp. I've been sparring anyone in the gym really, I've been sparring Ricky Boylan so I've had really good sparring for it.
I couldn't have asked for better preparation really so roll on the 19th, it should be a good test and hopefully a good fight for the public."
'Saint' George Jupp versus Raffi Khan will feature on the Steve Goodwin promoted 'Essex Eruption' quadruple headlined super show at Goresbrook Leisure Centre in Dagenham, Essex on Saturday 19th March 2011.
Co-headlining the 'Essex Eruption' event are fellow Ultrachem TKO Gym mates Leon 'Solid' Williams against David Vicena and 'Phat' Pat McAleese versus Fran Gonzalez as well as Romford Cruiserweight Tony 'The Conqueror' Conquest versus Prince George Akrong, which is sponsored by Revolver Entertainment's new to DVD action drama movie  'Fists Of Rage', and Yassine 'The Showman' El Maachi against Ulises David Lopez
The undercard includes a whole host of local talent including two more of Georgie's TKO team mates, Daniel 'Hurricane' Herdman versus Kevin McCauley and 'Pretty' Ricky Boylan faces Kristian Laight.
Michael 'The Zambezi Hitman' Norgrove will be looking to extend his unbeaten record to five when he faces Czech Republic's Jan Balog.
Another fighter who will be looking to increase his uneaten record is Biggleswade's Jamie Boness.
Middleweight Kris Agyei-Dua and Danny Brown will be making their second outing in a Month, after both securing wins on their debuts at York Hall on February 20th.
Further fights are expected to be announced shortly to bring the 'Essex Eruption' card to fourteen bouts.
Tickets for ESSEX ERUPTION at the Goresbrook Leisure Centre in Dagenham, Essex on Saturday 19th March 2011 are priced £35 (Unreserved) or £60 (Ringside) and on sale NOW.
For tickets book on-line at www.tkoboxoffice.com, call: 07960 850645 or in person at The Ultrachem TKO Gym, Gillian House, Stephenson Street, Canning Town, London E16 4SA.
Fists Of Rage, distributed by Revolver Entertainment, is new to DVD and will be released nationally on the 28th March 2011 and can be pre-ordered now at Amazon – www.amazon.co.uk – and HMV – www.hmv.com