NEW YORK, NY (Feb 17, 2011) – The "East-West Showdown," featuring World Boxing Council ("WBC") Welterweight World Champion Andre Berto and WBC #5 rated challenger "Vicious" Victor Ortiz, was held yesterday at The Palm West Restaurant in New York City. The two featured fighters and representatives from their respective camps were in attendance at yesterday's event.
"East-West Showdown: Berto vs. Ortiz" is presented by DiBella Entertainment, in association with Golden Boy Promotions. The bout will be televised live on HBO's World Championship Boxing starting at 9:45 PM/ET 6:45 PM/PT. The broadcast kicks off with Amir "King" Khan (24-1, 17 KOs) defending his WBA Super Lightweight World Title against Paul "Dudley" McCloskey (22-0, 12 KOs) from the M.E.N. Arena in Manchester, England.
Tickets are priced at $350, $200, $125, and $65 and went on sale today through the MGM Grand at Foxwoods box office. Tickets can be purchased online at www.mgmatfoxwoods.com, by calling the MGM Grand at Foxwoods at 1-866-646-0609, or in person at the MGM Grand at Foxwoods box office.
Below are quotes from the participants: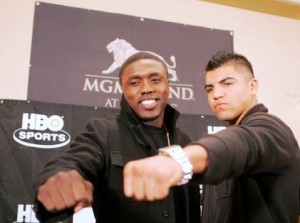 Andre Berto: "We have already had a tremendous camp. I feel the speed; I feel the power, and the explosiveness."
"Victor Ortiz is a young exciting fighter who is stepping up the plate. He is young and he has speed, but people who have seen me grow in front of the HBO cameras have seen the way I handle adversity. People saw the way Victor Ortiz handled adversity the first time he tasted it."
"Don't miss this fight. This is going to be the start of a wonderful year."
Victor Ortiz: "I've always worked hard, but in my last fight it was one of these things where at the end I felt like a piece of gum on the bottom of someone's shoes. So I said to myself: 'It's my turn.' I'm going in against some tough opposition. Andre Berto is no chump. But now I'm hungry. I'm tired of people saying that I have no heart or no balls. At the end of the day, I'm not scared of getting in the ring or challenging anyone. On April 16 I'm taking the title home."
Lou DiBella, promoter of Berto: "When Victor Ortiz stares down Andre Berto, he won't be the smaller guy and he won't be the smaller guy in the ring. These are two guys who come after each other, and that's why it's going to be a great fight."
"The MGM Grand Theater at Foxwoods is a room that was made for boxing, and it will house another great event on April 16."
"The WBC President called me this morning about fundraising efforts they are undertaking for aid to the people of Japan. We will do a Berto-Ortiz t-shirt with proceeds going to Japanese relief. It is the right thing to do and it is an important thing to do to help people who are in need."
"Both guys in this fight want this so badly. Nobody knows how hard Al Haymon and I have worked to get Andre Berto the biggest fights. Does anyone thing Bob Arum wants any part of Andre Berto with his fighters?"
Dave Itskowitch, representing Ortiz's promoter Golden Boy Promotions:"Stylistically, this looks like a can't-miss fight. What is unique about this is that there will be two young guys in their prime stepping up to fight each other."
Tony Morgan, trainer of Berto: "We are going to have a great event on April 16. We have put in a lot of work and there is a lot more to go."
"It's going to be a great fight. I applaud Victor for coming up to 147. A lot of people don't give Victor his just due, he hurts everyone. We know what he is capable of, and on April 16, Andre Berto will be victorious."
Rolando Arellano, Ortiz's manager: "We must just the utmost praise to these fighters. Without the fighters, there would no one to manager, no one to promoter, and the television content would go away. These fighters face adversity everyday that most people would crumble at."
"This fight on April 16 will be for the welterweight championship, and the winner is set up to fight Mayweather or Pacquaio."
Bill Satti, representing MGM Grand at Foxwoods: "This is the 150th fight to take place at Foxwoods. The fights this past weekend were fantastic. The MGM Grand Theater at Foxwoods holds 4,000 people but it is very intimate. It is a great place to see a fight and we are very proud of it."
Kery Davis, SVP Programming at HBO Sports: "The main event on April 16 will feature two great fighters. They have speed, power, and a TV-friendly style. This will be a great night of boxing."
For information about DiBella Entertainment, including a list of all upcoming bouts, please visit www.dbe1.com, or follow Lou DiBella on twitter, @loudibella.
For information on Golden Boy Promotions, visit www.goldenboypromotions.com, on twitter @GoldenBoyBoxing or Victor Ortiz @VICIOUSOrtiz.
Follow HBO Boxing news at www.hbo.com/boxing and on twitter @hboboxing.