Ringside coverage by Gary Purfield
Hall of fame promoter Russell Peltz put on an action packed card from Caesars Atlantic City Saturday night headlined by a USBA Cruiserweight Championship bout matching New Jersey vs. Philadelphia.  Omar Sheika of Paterson, NJ took on Philadelphia's ultimate warrior Garrett Wilson in a rematch of an action packed fight that took place in March of 2010.  The card was streamed on Go Fights Live www.gfl.tv for $9.99.
In the first bout Wilson started fast but ran out of gas and Sheika pounded away to walk away with a knockout victory in the fourth round.  The rematch would be a different story.  Wilson showed development as a fighter since last year's stoppage loss by demonstrating a patient yet persistent approach that eluded him in the first fight.  Both fighters had their moments in an action packed momentum swinging war but Wilson more often got the better of each round and walked out with a unanimous decision victory by scores of 118-109, 118-109, and 119-108 (this writer scored it for Wilson 117-110).  Wilson earns his first regional title in the form of the USBA Cruiserweight belt for his disciplined hard fought effort.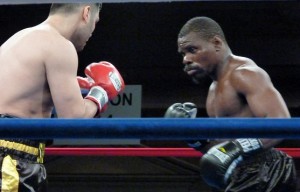 The first round started similar to the first bout with Wilson using his superior hand speed  to dance in and out landing head snapping left hooks, right crosses, and right uppercuts.  Wilson was circling and bouncing on his toes not allowing Sheika to push him to the ropes where the fight would move in his favor.  Wilson maintained control in round two but round three Sheika got into the fight by pushing Wilson to the ropes into a toe to toe fight that favors his style.  Rounds three and four were close where Wilson landed the cleaner punches but Sheika controlled the ring often forcing Wilson into the ropes.
The back and forth continued in round five.  Sheika was making a concerted effort to attack the body including straying well below the belt once which earned him a warning from referee Brian O'Neila.  The grueling pace continued in rounds six and seven with both men trading shots.  Each showed heart and determination as they absorbed each other's shots only to return fire with vicious punches of their own.  In round seven Sheika again went too far south and was penalized a point for the low blow.
Going into the eighth several of the rounds were close but most on press row felt Wilson was banking the points to build a good lead on the cards.  At the same time he seemed to be tiring and the possibility existed of a repeat of the first fight where Sheika could wear him down to a stoppage.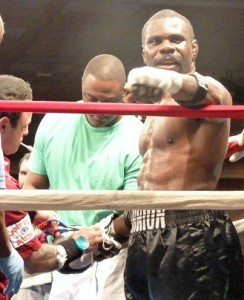 But Wilson would have none of it and came out in round eight with his second wind.  The bouncing circling movement returned as did his ability to move in to land and get out before Sheika could return fire.  This approach controlled the eighth and ninth rounds decisively for Wilson.  In round ten Philly's warrior turned up the heat early in the round with jabs and hooks from his left hand then late in the round landing power shots from the right hand and ultimately a left hook that stunned Sheika towards the end of round ten.  At the end of the round Wilson sensing his control walked back to his corner arms raised playing to the crowd.
In round eleven Sheika was sensing he had fallen well behind on the cards went for broke to score the come from behind KO.  The Jersey fighter had probably his best round in the eleventh pinning Wilson to the ropes where he landed shots to the head and body but was unable to get really hurt his opponent.  The crowd was into the fight the whole way but really came alive in the eleventh as Sheika's supporters loudly cheered their man on Sheika-Sheika-Sheika.  The Philly contingent responded with chants of Garrett-Garrett-Garrett.

Round twelve was back and forth with both fighters tired but being pushed on by continuing chants in the crowd.  Wilson highlighted the round with a big right in the last minute again stunning Sheika.
Wilson earned his victory tonight with speed and skills but even more important a patient disciplined approach.  Several times when he landed thudding shots his instincts seem to kick in to fire away.  Instead he had the intelligence to lay off the gas and employ a tactical approach that allowed him to maintain his stamina over the full twelve rounds.
Afterwards Wilson credited being in good shape and stated "I worked with Steven Cunningham, Dhafir Smith, Usaf Mack, and been working with all these champions so I was sure I would be in pretty good shape."
"I knew I was going to go the full twelve if he didn't fall early.  In the training I've learned not to just go after him and gas out and keep it under control."  Wilson acknowledged that being patient was part of the game plan which aided in his exciting win.
Sheika deserves credit as well for taking numerous power punches to his head but he never stopped moving forward and looking for the knockout.  Sheika's face was red by the third round and by the end of the fight his face a swollen mess but this never stopped his tenacious style.  But the night belonged to Philly's Garrett Wilson as he avenged his KO loss and walks away with a his first belt.
Cruz Remains Undefeated Gaining Valuable Experience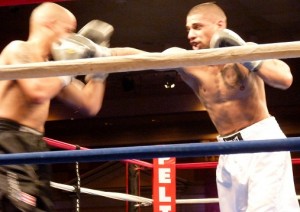 In the evenings co-feature the popular Ronald Cruz out of Bethlehem PA made a strong statement becoming the first person to stop Manuel Guzman and remain undefeated at 12-0 (9 KO).  Guzman 7-11-2 (3 KO) who had gone the distance with several good names including Sadam Ali, Aaron Torres, Jamaal Davis, and Bayran Jargal could not continue after the third round due to an arm injury.
Guzman came out sharp in the first round getting to Cruz with good movement.  Guzman was able to get in and out to land before Cruz could return fire.  In round two Cruz had some success cornering Guzman who also continued to land when on the move.
Cruz found his rhythm in round three in a very good workman round.  The Bethlehem Puerto Rican puncher was able to push Guzman to the corner and land heavy blows on the inside and outside from all angles.  Guzman showed the chin he is known for but was taking some serious punishment.  In the corner before round four the fight was stopped due to Guzman's injury.  Not exactly a KO stoppage but Cruz's performance was impressive with his ability to change the momentum and take over the fight.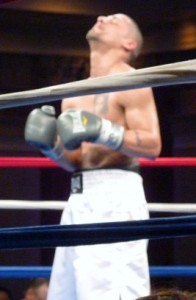 This was to be a good test for Cruz with the welterweight fight scheduled for eight rounds.  Cruz has been on a knockout streak stopping his last five opponents.  Guzman has a losing record but his durable chin was a test for Cruz to provide him rounds with an experienced trial horse.  Instead Cruz who leaped into the air in excitement when the fight was called off gets another short night.  He does pick up valuable experience with this outing.  While he was frustrated early he continued his game plan and found his rhythm working through adversity.  Beginning in round two and culminating in round three Cruz stayed patient and it paid off as he took control of the fight.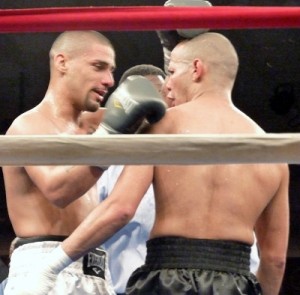 Undercard Results
In a brotherly love clash of two heavyweights from the Fighting city of Philadelphia Bryant Jennings put a beating on David Williams for two rounds before the fight was stopped between rounds two and three.  Jennings 7-0 (4 KO) came out attacking and landed power shots throughout the first.  Jennings floored Williams in the first on a right uppercut and then a second time on a straight right.
Jennings continued punishing his opponent in the second and the fight could have been stopped at any time.  Williams 6-4-1 (2 KO) just had no power to keep Jennings honest and was getting hit all over the ring.  Jennings scored a third knockdown in the second on a left jab.  Between rounds the fight was properly ended as the result was clear and no need for Williams to get severely hurt.
Derreck Webster of Glassboro, NJ made short work of Philly's Jose Medina with a first round KO.  The southpaw Webster came out firing and quickly scored a knockdown from straight left.  He then put Medina down again with a right jab sending his opponent butt first into the ropes.  Medina got up only to take more of a beating.  Webster finished it with a thudding left hook that sprawled Medina on his back where he had no shot of getting up.  The official end came at two minutes and twenty nine seconds of the first round.  Webster goes to 7-0 (5 KO).  Medina who drops to 15-21 (11 KO) has lost his last six all by knockout and thirteen of his last fourteen with eleven of the losses coming by knockout.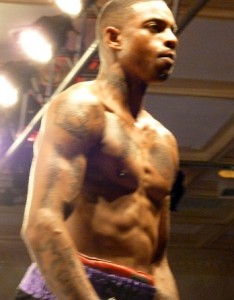 In a sometimes sloppy but eventful junior welterweight fight Korey Sloane won a unanimous decision over Edgardo Torres.  Torres who comes from Vineland, NJ controlled the first round with better technique and going after the body.  He was in control in the second when Sloane out of Philadelphia landed a short right out of nowhere dropping Torres and changing the momentum.  Torres got up and survived the round.  The two traded power shots in the third with Torres going after the body and Sloane hunting the head.  In the fourth they continued to trade but both were punched out and had no steam left on the shots.  Sloane 1-0 took the bout in his pro-debut by scores of 39-36, 38-37, and 38-37.  Torres fought hard but falls to 1-1 (1 KO).
Dontre King of Cambridge, MD scored a TKO victory over Keane Davis of Philadelphia when the fight was stopped at one minute and twenty nine seconds of the third round in a scheduled four round welterweight bout.  Davis controlled the first round and landed several good left hooks but then punched himself out early in the second.  King began teeing off midway through the second on Davis who looked like he would fall if anything landed clean.  In the third Davis still had no legs and was getting hit all over the ring.  Davis was leaning into the ropes almost falling down as King went for the finish.  Referee Earl Brown stepped in calling a halt to the action.  King improves to 4-9-2 (2 KO) and Davis falls to 1-2.
In the opening bout of the evening Antowyan Aikens scored a crushing knockout of Willie Mack in the fourth and final round of welterweight action.  Both fighters were making their pro-debuts and it showed early with a sloppy opening round.  Aikens fighting in his hometown of Atlantic City chased the Trenton, NJ native Mack around the ring while Mack would constantly bend down and fall to the canvas.  Things tightened for Aikens in the third as he started to find his range with Mack still falling around.  Aikens landed a right in the third as Mack was falling resulting in a knockdown.
Aikens closed with a bang in the fourth landing a huge straight right as Mack leaned down.  The shot landed right on Mack's chin putting him face down on the canvas.  He started to rise but the dazed look in his eye made it clear fight was over.  The official time of the knockout was two minutes and fifty two seconds of the fourth round.  Aikens goes to 1-0 (1 KO) with Mack to 0-1.
Got an Opinion? Submit Your Articles and Press Releases to be posted on NowBoxing.com
*Please refrain from leaving any Racist, Profane or Derogatory comments*