LOS ANGELES (April 26, 2011) – Unbeaten prospect Peter "Kid Chocolate" Quillin (23-0, 17 KOs), breaks camp today (Tues) at Big Bear and arrives tomorrow in Reno for Friday night's showdown against past world title challenger Jesse Brinkley (35-6, 22 KOs) in the 10 round main event, airing live on Telefutura, for the vacant USBO super middleweight championship.
Below find training camp notes and quotes from the 27-year-old Quillin, who was born in Chicago, raised in Grand Rapids (MI), and moved a year ago from Brooklyn to Los Angeles.
Training for Friday's Fight
Quillin was back in Wild Card Gym three days after his last fight, a win by four-round TKO versus Dennis Sharpe on February 11. "I'm not champ yet, so there are no days off." Qullin had training camp at Big Bear the past two weeks. In addition to training at Wild Card, prior to heading up to Big Bear, he spent two or three days a week for six weeks at his strength-and-conditioning coach Brad Bose's Anatomi gym in Santa Monica, much of the time working out on The Vortex that "Kid Chocolate" described as a torture machine.
Big Bear
This is the first time in his pro career that Quillin has trained in high altitude, at Big Bear in the Summit High Altitude Training Center. "I came up here in good shape. Working at an elevated level is different. Great fighters have trained here like Oscar De La Hoya (his promoter). Shane Mosley and 'Chop Chop' Corley came by to say hello. That meant a lot to me. I'm very fortunate to be in this situation.
"I trained before in the Poconos (Mountains in Northeast Pennsylvania) but that's nothing like up here. The Poconos are maybe 2500-3000 (feel above sea level) but it is 7000 here. I was always training there for four or six round fights but this is a 10-rounder."
Sparring
Since being at Big Bear, Quillin has sparred five times for a total 39 rounds, the most 11 rounds in one day, with undefeated light heavyweight Sergey Kovalev (14-0, 12 KOs) and light middleweight Robert Garcia (29-2, 21 KOs). But he regularly sparred Monday, Wednesday and Fridays – 6 to 10 rounds each time – at Wild Card before heading to Big Bear. "Wild Card is packed with sparring partners – world champs, former world champs and up-and-comers. Before coming up here I sparred with guys like (Nobuhiro) Ishida and (Vanes) Martirosyan. Sergey and Robert have given me good sparring at Big Bear."
1st Title Fight
"This is my first title fight but I've trained for a lot of my fights like they were title fights. It was that way for my fights against (Antwun) Echols, (Dionisio) Miranda and (Sam) Hill. Now, I have this great team that's more capable of taking me where I'm going. I've elevated my skills working with all of these guys."
Trainers
Quillin's day-to-day trainer for this fight has been Eric Brown, who is Freddie Roach's chief assistant. "They've put together a great game plan for this fight. I'm not going to tell the world what it is but everybody will see Friday night what I'm capable of doing in the ring."
——————————————————————————————————————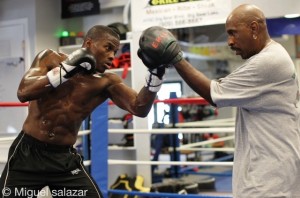 Brown has been quite impressed by Quillin's improvements: "I've been most impressed by his patience and ability. His overall game has really improved. When he first came to Wild Card, he was in decent shape but when he started working with his strength-and-conditioning coach it (improvements) was evident right away. He's had world-class sparring at Wild Card. His first fight, in Canada, was okay but it was hard to tell how much he'd improved because he knocked out his opponent in the first round. His second fight was testimony to his conditioning. He was on another level. He's worked hard in the gym and I've seen a vast improvement, especially in his strength.
"Jesse (Brinkley) has been around for a while since The Contender. He came to the Wild Card for sparring. He's a tough kid with a big heart – a fighter! He does nothing in particular very well but he's good with everything. He's not at Peter's level, though, mentally, physically or skill wise. Everybody will see that Friday."
For more information about Peter "Kid Chocolate" Quillin go online to www.TheKidChocolate.com or follow him on Twitter @/Kid Chocolate.