By Gary Purfield
This Saturday May 21, 2011 at 1:00pm a statue of great Philadelphia Middleweight Joey Giardello was unveiled at S 13th St and Mifflin St and E Passyunk Avenue in South Philadelphia.  The statue honors the former middleweight champ as well as many other past Philly fighters.
As a relatively young boxing writer (32) I knew little more than what I had heard from others about Giardello.  So as someone with an interest in the history of this sport and learning about the statue I began researching everything I could including speaking with family and friends from South Philly that were around during Giardello's time.
The first piece provided a history of Giardello and background as a Philly middleweight.  The second piece had an in-depth look at the much debated fight with Ruben "Hurricane" Carter.  This third installment covers the dedication ceremony and unveiling of the Joey Giardello statue.
It rained all week in Philadelphia but on Saturday we got a break in the miserable weather  to let the sun come out and provide a beautiful day.  It was fitting to have a bright and beautiful day  as many in South Philadelphia gathered to be part of the Joey Giardello statue dedication ceremony.  A full block of Passyunk avenue was closed down and packed with young and old to commemorate  the hall of famer and former middleweight champion.
The statue was the project and passion of many over several years.  Boxing enthusiasts, fans, local organizations, businesses, and others throughout the city generously donated  time and money to fund the statue.  The lead six who worked together for two years to bring the statue to reality were artist Carl Levotch, John Gallagher, Carmen Bartolomeo, Charles Sgrillo, Fred Druding Jr. and John Disanto of Phillyboxinghistory.com.
The city provided a stage and podium where friends and family who knew Joey the best and those worked over two years to make this statue happen could speak about Giardello's life as a boxer, family man, and member of the South Philly community.  Each person  took their turn telling memories and stories about the honored fighter that passed away in 2008  Very few were able to get through their speech without becoming emotional in the moment.
Fred Druding Jr. a former Philadelphia Golden Gloves champion and professional boxer who now serves on the Veteran Boxers Association-Ring One (VBA) hosted the ceremony.  Joey Vento best known as the owner of famous Geno's Steaks received a loud applause when he was introduced as one of the many who made contributions to make the statue happen.  Vento generously donated $25,000 to the project.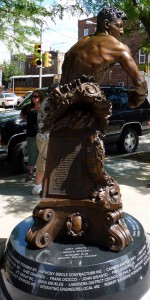 Carmen Bartolomeo who was a professional boxer at the same time as Giardello and was friends with the former middleweight champ provided the comedic stories of Giardello.  After amusing the crowd Bartolomeo choked  up as he spoke about Joey's charity work and Giardello's son.
"Now let's not forget about his charity work.  Anybody with a special son, or kid, he put him to the special Olympics.  The time, donated money from bouts and anybody who comes to the see the statue you bob and weave under that right and you look at his heart."
John Disanto of Phillyboxinghistory.com who counts Philly boxing as one of his great passions and was described as the anchor of the project took his turn.  Disanto expressed that his dream would be for Joey to be here for the unveiling but this was not possible.  Disanto went on to thank those involved and the generous contributions.
"To do something like this it takes a lot of help.  Because everyone loved Joey so much it was a lot easier than it could have been.  As soon as we announced this project people started to line up and ask how can we help.  You heard about the big guys that really came through and made this happen..  It was all the people of South Philly as well.  You know everybody was involved in this and this is your statue.  I think this was a big tribute to Joey that we got the help we needed to get this done."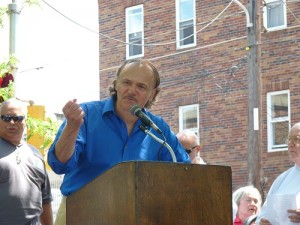 Artist Carl Levotch spoke about begin given the opportunity to craft the statue and get to know all those involved with Giardello through the years.  Levotch did a great job of summing up why everyone was present.
"Middleweight champion of the world was Joey Giardello's title and we have come to honor that remarkable achievement today but equally important we have come to honor the man.
Last was Giardello's wife Rosalie Tilelli who started by thanking all the donors and artist Levotch who gave  her and the family something to look forward to.  Mrs. Tilelli then talked about how many have asked what would Joey think about the statue if he was here.
"He would have been in awe and humbled and I am sure, I know, he would have cried and cried because in reality that what he was, a very humble, humble man.
Then came the moment everyone waited for but first the full rendition of Frank Sinatra's "My Way" was played in honor of Giardello who loved the song.
The statue itself is a masterful work of art showing Giardello coming across with his right hand and left tucked low.  The Ring Championship belt is on his right side as well.  Every inch of the statue is finely tuned and detailed showing extensive accuracy to Giardello's likeness.  In addition the statue has the names of the biggest contributors, top fifty South Philly boxers of Italian ancestry, twenty more Philly boxing legends, landmark South Philly Boxing Venues, and landmark South Philly gyms.
Congratulations are deserved for everyone involved.  The family, artist Carl Levotch. VBA, Phillyboxinghistory.com and everyone else deserve a great deal of credit and respect for their hard work that has brought a great monument to a city with such a proud and rich boxing history.  Philadelphia has great gyms, venues, fighters, and now has its first statue of a real life great champion.  This statue will be a proud mark for the fighting city of Philadelphia.  With any luck it sparks efforts for future statues of more of the many great Philly fighters.
To see the statue simply stop by S 13th and Mifflin St by Passyunk Avenue.  Whether you are from Philadelphia or are just a boxing fan it is worth the visit.
To see videos of the statue unveiling visit http://www.youtube.com/user/gpurf3
For further information and details on the Giardello statue visit http://www.joeygiardello.net/.
Question, comment, agree, disagree, or anything at all, send it to gpurf3@hotmail.com
Got an Opinion? Submit Your Articles and Press Releases to be posted on NowBoxing.com
*Please refrain from leaving any Racist, Profane or Derogatory comments*