Over the past few days there have been some highly misleading statements circulating in the media regarding the reason why the planned August 13th rematch between Graham Earl and Michael Katsidis was shelved.
Notable scribes around the world have been attributing the failure of Earl-Katsidis II to materialise being either Graham Earl pulling out or the failure of both camps to agree terms.
However neither statement is correct, the reason the highly anticipated rematch is not to go ahead lies purely at the feet of the British Boxing Board of Control, following their decision not to grant Graham permission to fight, even though his license is in date and he has passed all medical requirements.
Graham is naturally confused why the BBBofC has refused to allow him to fight Michael Katsidis in Australia, especially as they failed to give any valid reason for their decision, other than give the meaningless statement 'the Board do not feel it is in the best interests to yourself or to the sport in general'.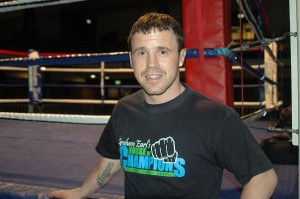 Earlier today Graham made the following statement, "I just want to say that I am totally gutted as I believe there is no real reason for not giving me approval to go to Australia and fight.
The Boxing Board have been happy to accept my boxing license renewal every year, at no time have I been suspended or told I cannot box any more.
I would have understood if I had failed my medical, but I haven't so do not understand why they say it is not in my best interests or that of the sport.
The Board are letting people come back after years out of the sport, sometimes when they are aged 42 or 43 and still allows them to fight.
I'm 32, for the past two years I've been in training all the time, even though not actually fighting, and my last fight had a win. So there cannot be any excuse not to allow me to fight.
When you pay for your license and they accept the payment that means you are licensed to box, so what valid reason could they have for stopping me boxing after accepting my license renewal each year.
Since I started professional boxing my license has always been paid on time. My license was valid to August this year, when I knew the fight with Michael Katsidis was to go ahead I paid for my license renewal early and all next year is already paid for.
Boxing is my life, I am a boxer this is what I do for a living. They should at least give me a valid reason for their actions rather than just saying it is not in my best interests or that of the sport."
Graham is currently taking legal advice and is hopeful that this situation will be resolved and the agreed Graham Earl versus Michael Katsidis rematch will take place in the near future.