Earlier today Dollis Hill, London, based American Super Middleweight Emmanuel 'Manny' Oshunrinde and Leicester's Jahmaine Smyle came face to face for the first time ahead of their highly anticipated rematch, which headlines the Graham Earl promoted 'Renaissance' event at Liquid Nightclub, Gordon Street, Luton, on Sunday July 31st 2011.
The big punching duo's first encounter, at York Hall in January, lasted a mere seventy one seconds before referee Kieran McCann stopped the bout due to a bad cut above Smyle's right eye, declaring the bout a technical draw and stating the cut was due to accidental clash of heads.
Oshunrinde and his coach, TRAD TKO Boxing Gym's Barry Smith, were outraged, claiming there never was a clash of heads and the cut was caused by Oshunrinde's solid jabs and big hooks and should have been declared as a TKO in their favour.
Speaking at Graham Earl's House of Champions Gym in Luton Oshunrinde said, "It feels like redemption don't it, yeah. It's less than two weeks away, you can call it redemption but really I'm setting the record straight on a bad refereeing decision in January.
I'm feeling pretty good, I'm ready to rock and roll. When I beat him the first time I wasn't in tip top shape, but now I feel like I am peaking really, really well.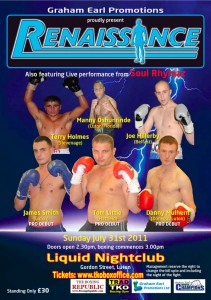 Training's going really, really good. Everything is right and coming into play, and I feel good.
I've been getting great sparring, been sparring great guys like Cruiserweight Mitchell Balker and this really good young kid that's just turning over, he's making his pro debut, Frankie Buglioni. He's very good, he's had an illustrious amateur career. He's surprised me because he's actually give me good sparring.
For this fight I've been sparring six and eight rounds to make sure I have the fitness. You always see me training , I always put a hundred and ten percent in because I'm trying to improve.
It didn't go four rounds last time, I'm not going to make any predictions, other than a win. I don't want to seem to cocky so I'm just going to predict the win and just box like I do in training."
Jahmaine Smyle just sat smiling as Oshunrinde spoke, when he'd finished Smyle responded by saying, "I can't wait to get in there. I've trained hard, I've been training for this for six weeks like.
I'm really looking forward to this, I can't wait to get back in there. I've had good sparring, it's all good, I'm ready.
The last one I only got caught by three shots before I got cut and they stopped it, under that new rule. It wasn't a punch that did the cut, he caught me with the side of the gloves.
I've had some tough fights, that wasn't one of them. I got through to the semis of Prizefighter, I think I had a tough draw, my last fight was a close fight, I thought I won it but that's the way it goes sometimes.
All I know is I'm going to win, one hundred and ten percent. I'm not saying I'm going for a knockout, if it comes it comes, you know what I mean, I'm going to box him, I'm going to work him. I'm going to beat him."
Graham Earl has put together an exciting undercard, to support Manny Oshunrinde versus Jahmaine Smyle II, featuring Graham Earl Promotions big banging stars Terry Holmes and Joe Hillerby as well as debuts for local lads James Smith, Danny Mulhern and and Tom Little.
Tickets, priced £30, for the Graham Earl Promoted 'Renaissance' event at Liquid Nightclub, Gordon Street, Luton on Sunday July 31st 2011 are available on-line at www.tkoboxoffice.com or in person at Graham Earl's House of Champions Gym, Unit 11 Hitchin Road Industrial Estate, Luton, Bedfordshire, LU2 0DZ