By Gianluca (Rio) Di Caro
This Saturday Newmarket Light Middleweight prospect 'Phat' Pat McAleese gets a much deserved shot at the BBBofC Southern Area title, on the undercard of the highly anticipated British and Commonwealth Heavyweight title clash between Dereck Chisora and Tyson Fury, at the Wembley Arena in London.
Pat, who's record stands at 12-1-1, will be challenging Northolt's Ryan Toms for the belt he won against Scott Woolford back in May this year.
For those that have yet to see 'Phat' Pat fight he's an exciting all action box-fighter that throws extraordinary amount of shots, often around a hundred punches a round.
Notable fights from his career to date include a thrilling double header with Barnsley's Lee Noble. The first, at Goresbrook Leisure Centre in March 2010, was declared a draw.
The rematch, at York Hall some six months later, was for the vacant British Masters title. Pat dominated from the start, he just didn't give Noble any respite for virtually nine full rounds and then literally one second before the bell Noble landed a peach of an uppercut to send Pat crashing to the canvas.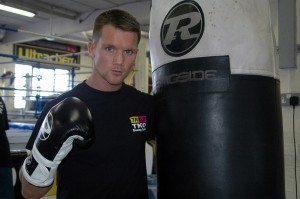 After the fight the referee's score card showed Pat was ahead by a full eight rounds.
Another cracker of a battle was Pat's showdown with Birmingham's Dee Mitchell, at Tattersalls Sales Rooms in Newmarket just two weeks before the first Noble bout.
Mitchell, a very tough battler, had come for a fight and a fight is what he got. For six rounds the pair went toe-to-toe, both digging deep into their respective arsenal of punches to thrill the capacity crowd.
Amazingly Pat had let rip with close to seven hundred punches as he marched forward to victory by a 60-55 points margin.
I caught up with Pat at the TRAD TKO Boxing Gym in Canning Town, where he is co-trained by Brian O'Shaughnessy and managed/co-trained by Johnny Eames, to talk about his career and the upcoming showdown with Ryan Toms this weekend.
Rio – Hi Pat, thanks for talking with me today. OK, you're challenging Ryan Toms for his Southern Area Title next Saturday. Can you please give me your thoughts on the fight?
Pat – Yeah, I mean training has been going well, I'm fit.
He's a tricky southpaw but I've been sparring some excellent southpaws here at the TRAD TKO.
I'm more than confident that I can go in there and do the job on him.
Rio – Your long time coach Johnny Eames is now overseeing your training, with Brian O'Shaughnessy taking on the actual coaching role. How's is that working for you?
Pat – Yeah, everything's going well, Johnny still has his input so nothing goes past Johnny that we're doing.
Brian's been spending a lot of time with me and trying new things. He's changing a few bits and pieces, but not too much. He's adding the best bits from everyone really.
Rio – I'm going to go back over some of your past fights, specifically those against your boogyman Lee Noble, who is the only person to put any form of blemish on your record – a win and draw against you. My question is you thoughts on those fight and what is the likelyhood of a third fight?
Pat – If it happens it happens, if not so it goes, I'm over it.
First fight I didn't think was draw, I know I did enough to win that.
Second fight I was miles ahead on points, I'd won every round until he landed the shot. That's boxing, it happens no use sitting and dwell over it , move on, move forward, move up the rankings so if it does come back I'm sure I would do a comfortable job on him.
Rio – Which of your fights holds the fondest memories for you?
Pat – I thought I boxed really well against Fran Gonzalez. I'd worked on some new things in the gym and I put them into practice on the night so that was good fight for me.
Rio – We know about your pro career but what about your amateur career?
Pat – I had a short amateur career, I started late, I was seventeen. I was twenty one when I turned pro but managed to rack up forty odd fights, got an England International cap, got to the semifinals of the ABAs, semifinal in the ABCs.
I didn't have many junior fights, just a handful of junior fights. I moved on pretty quick as I knew from day on that I had a professional style and I was never going to be big in the championships. This showed when I was getting to the higher levels when I was getting out pointed, so turned my hand to the professional ranks where I am more suited and feel more comfortable in that environment.
Rio – Every year you do a fight in your home town of Newmarket, how do you feel to get that chance to fight in front of your home crowd.
Pat – Yeah, it's great. It's great for my fans as well as it's always a big thing in Newmarket.
Being able to sell that many tickets and fight at home is a lot of pressure on me, but it's all worth while seeing all those people from the area watching me.
Rio – Back to date, fighting on the undercard of Chisora-Fury at Wembley, is this the biggest show you've fought on to date?
Pat – Yeah, the biggest venue by a long way. My last fight in Newmarket was seven hundred people so a big difference.
I have boxed on some big shows, but nothing compared to the size of Wembley Arena, that's sixteen thousand. It's a big, big place.
Rio – As you're fighting on the televised part of the show as you are fighting for a title. How do you feel about that?
Pat – Yeah, it'll be good. I think it's about time I was doing televised fights now and I haven't been on TV yet.
It'll be good to showcase my boxing so people can see what I am about and what I've got to bring to boxing.
I think people will like my style, it's all action, it's exciting to watch.
Rio – Yeah, talking about your style, you throw something like a hundred punches a round. How do you keep it that up for ten or twelve rounds?
Pat – Yeah, I throw a lot of shots. I'm trying to take it down a bit and throw better quality shots.
You'll see a few differences coming when I get in the ring on Saturday. I've been working with Brian on my shots and different moves. Everything's coming together, I'm feeling confident about it.
Rio – finally is there anything you would like to say to your fans?
Pat – I'd like to say thanks for supporting me.
This is my big event and they're coming to support me in huge amounts and I really appreciate every single person that comes to support me at any of my fights.
Pat McAleese versus Ryan Toms, for the Southern Area Light Middleweight title, is a feature fight on the undercard of Dereck Chisora and Tyson Fury's British and Commonwealth Heavyweight title clash at the Wembley Arena on Saturday 23rd July 2011.
Tickets priced £40, £50 and £150 are available from the TRAD TKO Boxing Gym, Gillian House, Stephenson Street, Canning Town, London E16 4SA or call Pat McAleese on 07852 980593