Story and photos by Gary Purfield
In an absolutely thrilling main event that lived up to everything a fight should be Victor Vazquez and Angel Rios went to war for eight grueling rounds in the lightweight division. The crowd was packed with Victor supporters as is always the case when the barber Vazquez fights. The fans were treated to a special fight in return for their support.
This was the fourth card put on by Joey Eye Boxing and David Feldman at the new Harrah's Casino in Chester right outside of Philadelphia. The fight had a bigger feel to it than the typical club show with the fever pitch crowd in addition to extra lighting and cameras on hand thanks to boxing network giant HBO being on hand. HBO was testing out a new show they are considering similar to their 24/7 series but this would be about younger up and coming boxers in smaller shows.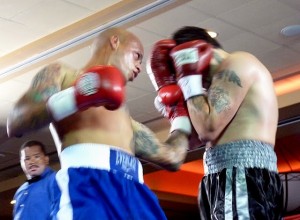 Vazquez started fast and strong dominating the first two rounds. Victor was active with his trademark head and body attack. With trainer Billy Briscoe and second in charge Greg Hackett (a fellow Philly fighter) yelling for the "Cotto" which could only mean left hook to the body Victor responded with a thudding body assault.
Vazquez continued to get the better of things but Rios began getting into the fight in round three as he became more active. Round four was similar as Vazquez got the better of some close hard hitting action.
In round five the fight really heated up. Vazquez continued to land with bad intentions but as his lands lowered on defense Rios was able to start tagging the Philly brawler with head shots.
Round six had Rios getting his first round in the books on this writer's card. Rios was able to pin Victor in the corner several times and went to work.
Round seven was an absolute brawl fought in violent phone booth close action style. Several times the two combatants engaged in thrilling exchanges that had the crowd on their feet. The partisan crowd urged on their man with the entire ballroom chanting Vic, Vic, Vic over and over. Scoring of the round could have gone either way but what mattered to those in attendance was the pure excitement that was being delivered inside the ring.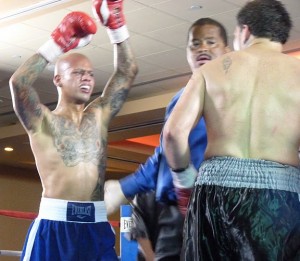 Both fighters came out for round eight tired from a rough high paced war but would not let the fatigue slow the action. They traded back and forth with a fury until the final bell and continued punching after the bell rang until being separated. Immediately upon the action being halted both put aside the violence and embraced for sportsmanship and knowing they had brought out the best in each other.
The crowd erupted one more time when Vazquez was announced as the winner by Majority Decision. One judge scored it a draw 76-76 while the other two scorekeepers had Victor taking the bout both by a score of 77-75 (this writer also had 77-75 for Vazquez giving the first five to the winner and the last three to Rios).
With his exciting style, new contract with promoters Joey Eye Boxing, and success at the gate Vazquez 14-5-1 (7 KO) will certainly continue to headline exciting cards. Angel Rios 9-6 (6 KO) who had been mostly inactive since 2003 and had welts under his eyes by round five certainly gave a great effort as he absorbed punishing body blows but never stopped coming to give a great fight.
Undercard Report
Angel Ocasio looked spectacular in disposing of Rasool Shakoor in a six round lightweight bout. It was the first six rounder for Ocasio and he handled the distance well. Angel came out firing with fast hands and a sharp jab. Ocasio showed a great ability to land his punches and slip shots at the same time with smooth precision.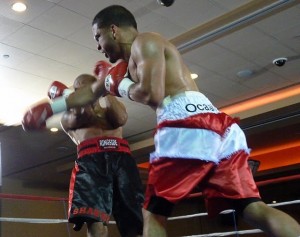 It was more of the same in round two as Ocasio stepped it up landing several right hands that stunned his opponent. Ocasio had a plan to stick and move to fight the fight on his terms and he stuck to his plan throughout. Ocasio in only his sixth pro bout was in great shape and looked cool, calm, and determined.
He had his biggest moments in round five when he landed several heavy right hands and left hooks that staggered his opponent. At a few points it looked like Ocasio would end it but Shakoor 3-9-1 (1 KO) showed survival skills to stick around. Still Ocasio continued punishing his opponent throughout the last round before it was sent to the cards.
The result was hardly in doubt as Ocasio 6-0 (1 KO) was awarded the unanimous decision by scores of 59-55, 59-55, and 60-54 (this writer had it a shutout 60-54).
Ocasio was able to look good despite being thrown a curveball when his opponent turned southpaw throughout the fight.
"The amateurs help me out a lot with the southpaw stuff so I am glad I had a lot of background in the amateurs."
I talked with Ocasio after the fight about his performance and his improved conditioning.
"Definitely did more conditioning for this, trained harder, six round fight and stepping up. Getting ready for everyone in my weight class."
"Definitely felt like I took a step forward. Ran into a little adversity with him turning south paw, was not expecting it but I think I did well with him turning southpaw and when he turned orthodox I think I started dominating him."
If you are trying to find a fault you would say that if Ocasio sits down on his punches and punches through the target instead of pulling back he will begin to score knockouts to compliment his slick skills. He is a young fighter and has plenty of time to grow but is clearly already improving and on his way up.
In the opening bout Anthony or Tony "Boom Boom" Ferrante took on William Pietro in light heavyweight action. The bout was scheduled for six rounds but then was dropped to four but that had no effect on the outcome.
Ferrante came out fast pushing his opponent all over the ring with his jab and heavy right hand. Pietro was overmatched against the stronger Ferrante from the start. As Ferrante was dominating he dropped Pietro mid-way through the round with a sneaky left hook to the head. Pietro got up but had no desire to fight as he simply tried to survive the round and not take a beating.
Before the bell rang for round two Pietro 5-6-1 (2 KO) decided to hang it up for the night and hit the showers giving Ferrante a TKO victory. Ferrante 12-2 (7 KO), clearly dejected and annoyed at not getting the opportunity to keep going turned away and stared out at the crowd with a look of disappointment.
Notes
Joey Tiberi and Joey Dawejko were scheduled to fight as well but an opponent for Tiberi was not found and Dawejko's opponent failed the medical test.
Three exhibition fights opened the card (each fight went three rounds).
Melissa Hernandez and Ronica Jeffrey opened things entertaining the crowd with a fun showboating spirited fight.
Chuck Mussachio went with Buster Drayton and had some fun dancing for the crowd.
Dawejko who had his fight for the night cancelled took on Teneal Goyco in the final exhibition. The two heavyweights put on some hard hitting action despite the head gear and big gloves. Dawejko got a knockdown in the second round off a body shot.
For a full photo recap of the night visit https://picasaweb.google.com/111668600900883893517/HarrahSChester81211?authkey=Gv1sRgCMCs5Y7QkM_J-gE#
Question, comment, agree, disagree, or anything at all, send it to gboxing3@gmail.com
Got an Opinion? Submit Your Articles and Press Releases to be posted on NowBoxing.com
*Please refrain from leaving any Racist, Profane or Derogatory comments*