By Milo Matray
In order for Juan Manuel Marquez to stop Manny Pacquiao on November 12th, he will need to be relentless in his body attack.
Manny Pacquiao has been dropped and stopped by body shots before, and this will be key to slow down his frantic pace.
Antonio Margarito was able to hurt Pacquiao twice to the body and Marquez is a sharper combination puncher than Margarito with faster overall speed, so, Marquez needs to attack the body every chance he gets to soften Manny up, slowing him down and taking his power away.
From the looks of it, Juan Manuel looks physically fit and very strong despite being 38-years-old and fighting at 144-pounds. The last time Juan Manuel fought above 135-pounds he looked very slow and soft, but also remember he was not facing an ordinary swarming fighter like Manny Pacquiao, he was in the ring with a superior boxer in Floyd Mayweather Jr., this fight will be very different because Pacquiao's wild aggression is made for Marquez's combination counter punching.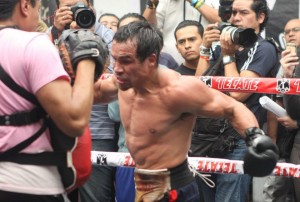 If Marquez mixes it up and digs his powerful left hooks into Pacquiao's body, he will be able to take the air out of Pacquiao and make him tired, in turn, reducing his activity during the mid to later rounds. Once, Marquez slows Pacquiao down and counters him with upper cuts and body shots, he can go in for the knockout either to the liver or to the chin.
Juan Manuel must really put power on his punches and go for the knockout whenever he can because if this fight goes the distance and Marquez gets dropped just once in this fight the judges will give it to Manny Pacquiao again. Marquez must not leave this fight in the hands of the judges if he wants to win. I look forward to seeing another spirited battle to cap off this trilogy between Manny Pacquiao and Juan Manuel Marquez.
Got an Opinion? Submit Your Articles and Press Releases to be posted on NowBoxing.com
*Please refrain from leaving any Racist, Profane or Derogatory comments*
Discuss this topic in the NowBoxing Forums (Membership is FREE)