Luis "Orlandito del Valle" (14-0, 11KO's ) and Jose Beranza (34-21-2, 26 KO's), weighted in at 122.4 and 122 lbs respectively today, ahead of their much anticipated match this Saturday at the Roseland Ballroom in New York City.
"The people there were really exited", said Del Valle about the weigh-in, which was held today at the New York Sate Athletic Commision. He added, "Beranza has already defeated two formerly undefeated Boricuas, and did the same during his last fight against Christopher Martin. But the story will be different against 'Orlandito' Del Valle.'"
Del Valle vs. Beranza was scheduled as a 124 lbs. fight for 8 rounds.
As a professional at the featherweight division (126 lbs.), del Valle won the New York State title after defeating veteran Pascal Rouse, and won the WBA's regional title, the North American Boxing Association's (NABA) after defeating Vietnamese fighter Dat Nguyen (17-1, 6KOs at the time) by unanimous decision on the eve of New York's Puerto Rican Day Parade.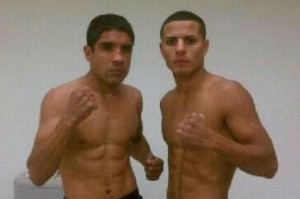 This event is part of Dibella Entertainment's 'Broadway Boxing' series, in which the main fight will feature fellow Boricua and junior welterweight (140 lbs.) Gabriel 'Tito' Bracero (18-0, 3KO's) who will take on former world champion, DeMarcus "Chop Chop" Corley (37-19-1, 22KO's).
Tickets ($45, $65, $85 and $125) are available at Ticketmaster: 1.800.475.3000, www.ticketmaster.com.