LAS VEGAS, NEVADA – (February 21, 2012) Grind 2 Def Entertainment boxer Joaquin Zamora (18-4, 12 KOs) is scheduled to fight Bernardo Guereca (16-13-1, 3 KOs) in the co-main event on March 31, at the Hard Rock of Albuquerque in Albuquerque, New Mexico on a boxing card promoted by Team Tapia Promotions. Joaquin Zamora has been out of the ring for almost most a year. After a long layoff Zamora has regrouped and made some changes to his team to make a run at 154lbs.
Joaquin Zamora said "First I want to give all glory to god. I'm excited to get back in the ring soon after a long layoff. After my last fight in June 2011, I took some time off to analyze my boxing career and my future. I decided to make some changes to my team. I'm still working with my long time trainer Al Lovato but I added former five time world champion Johnny "La Vida Loca" Tapia as my co-trainer. I also hired worldwide boxing advisor Macke Roberts to guide my boxing career. Working in the gym with a legendary champion like Johnny, I'm learning so many new things in training. I'm excited about Johnny & Macke joining my team and I will be ready for big fights at 154lbs."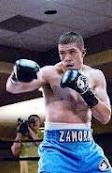 Macke Roberts said "I want to thank Team Tapia Promotions for this opportunity to have Joaquin fight after a long layoff. Joaquin Zamora is talented fighter who works hard in the gym and wants to be a champion. Having Joaquin work in the gym with five time former world champion Johnny Tapia will take his boxing career to the next level. Johnny has the experience as a world champion to help Joaquin become a champion. I look forward to seeing Joaquin in a big fight at 154lbs very soon."
Joaquin Zamora said "The 154lb division is wide open with my fans behind me, hardwork in the gym and my faith in god I'm confident I will be successful in the ring in 2012."
In the 10 round main event, Archie Ray Marquez (12-2, 8 KOs) will face Willie Villanueva 10-4 2 KOs) .
Doors open at 5pm & first bell rings at 7pm. Ticket prices range from $15-$100. Must be 15 years or older to attend. Tickets are on sale now thru the Hard Rock box office or http://www.holdmyticket.com
To find out more information on Grind 2 Def Entertainment visit their facebook page at http://www.facebook.com/grind2def