Promoter, and former World Champion, Carl Greaves recently announced that three weight World Champion Marco Antonio Barrera is to make a return visit to the UK next month. Now before you go getting too excited, or maybe you should, because it's not for yet another super fight, oh no this time it's for a much more up close and personal event with British boxing fans.
Yep you've got it Carl is putting together another of his highly successful 'Evening With' events and this time it's the legendary Mexican star that will be the centre of attraction at the Newark Showground, Newark, Nottinghamshire, on Friday, 9th March 2012.
Barrera, a former two-time WBO super bantamweight, WBC, Lineal, The Ring & IBO Featherweight and WBC & IBF super featherweight champion, earned his legendary status following a trilogy of battles with another Mexican legend Erik Morales as well as his being the first to defeat Prince Naseem Hamed.
Barrera began his career as a Super Flyweight and won his first professional title at this weight, defeating Justino Suárez by a decision to win the Mexican national super flyweight title in 1992. A title he successfully defended five times as well as adding the division's NABF crown to his collection.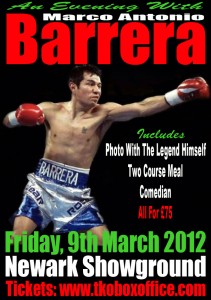 In 1994, even though he beat Carlos Salazar, Barrera failed to secure a WBC Super Flyweight World Title eliminator as he had come in over the weight limit. Barrera then stepped up to the Super Bantamweight division and challenged for and won the WBA Penta-Continental Super Bantamweight title, which he successfully defended on a single occasion.
Barrera began 1995 with his first World title shot. On the 31st March of that year, he became the WBO super bantamweight champion after defeating Puerto Rican boxer Daniel Cobrita Jiménez.
Barrera defended the WBO crown seven times before on the 22nd November 1996, he suffered his first career loss, as well as losing the WBO title, after a crazy faux pas by his coach.
Barrera was knocked down in round five by American Junior Jones, Barrera got to his feet but just after the fight resumed Barrera's corner man climbed onto the ring apron, leaving the referee no option but to stop the fight and disqualify Barrera.
On the 18th April 1997, Barrera was presented the chance to regain his title, by facing Jones in a rematch in Las Vegas. Unfortunately after twelve hard fought close rounds Barrera was once again thwarted, this time by a unanimous decision, after which he announced his retirement from boxing.
One year later Barrera announced his comeback, shortly after he defeated Angel Rosario with a fifth round knockout. After two more wins, he was given another opportunity to fight for the WBO World title.
Barrera became a two-time World Super Bantamweight Champion, on the 31st October, when he defeated Richie Wenton by a third round knockout to secure the vacant WBO title.
In February 2000, Barrera was defeated by the WBC super bantamweight title holder Erik Morales by a controversial split decision. It was an intense battle in which both fighters were cut and battered. At the 2000 year end awards this thrilling bout was declared the new Millenniums first 'Fight of the Year' by Ring Magazine.
Shortly after the bout, the WBO reinstated Barrera as their champion, which he defended three times in 2000
In 2001, Barrera moved up a weight division. On the 7th April, he handed legendary British boxer Prince Naseem Hamed his first and only loss to secure the lineal Featherweight title by a twelve-round decision.
Before the fight, Hamed was the clear bookies favorite, however Hamed could not hit Barrera with his trademark left, as Barrera circled to his left and worked both head and body.
Barrera was not a fan of Hamed's antics and responded to Hamed's punches during clinches. On one occasion early in the fight, Hamed grabbed Barrera and they both fell to the ground, whilst down on the canvas Barrera threw a right jab which lead to a warning from referee Joe Cortez. In the twelfth and final round Barrera trapped Hamed in a full nelson, and forced his head into the turnbuckle, resulting in a point deduction from Cortez.
Throughout the bout Barrera threw far more and harder punches as well as more impressive combinations than Hamed to rightfully be awarded the victory via a unanimous decision.
On the 8th September 2001, Barrera added the IBO Featherweight title to his collection after stopping former champion Enrique Sánchez in the sixth round.
Nine months later, on the 22 June 2002, Barrera successfully defended his lineal title by out pointing Erik Morales in a rematch, in doing so added Morales' WBC title and the vacant Ring Magazine title to his ever expanding trophy case, albeit for only a short while in the case of the WBC belt as shortly after he relinquished the title.
On the 7th November, Barrera defeated former five-time world champion Johnny Tapia by a 12-round unanimous decision.
Barrera's 60th career fight, on the 12th April 2003, see him finish off former WBC title holder Kevin Kelley in style, with a spectacular fourth round knockout.
On the 16th November 2003, Barrera faced Manny Pacquiao. After eleven bruising hard fought rounds Barerra's corner threw in the towel. In doing so handed Pacquiao his third world championship, all in different weight divisions, and as Barrera was the recognized Lineal champion his coveted Ring Magazine title also went to the Pac Man.
On November 27, 2004, Barrera joined Pacquiao as a three weight division World Champion, after defeating Morales to secure the WBC super featherweight title, a title which he successfully defended four times as well as adding the IBF version to his impressive collection.
Barrera lost his WBC Super Featherweight title, On the 17th March 2007, to fellow Mexican boxer Juan Manuel Márquez by a unanimous points decision.
Barrera was furious and demanded a rematch, claiming that the judges and referee were wrong, because he knocked down Márquez in the seventh round and the referee ruled it a slip.
Just under seven months later, on the 6th October, Barrera fought Pacquiao for a second time, for the WBC International Super Featherweight title. Again Barrera's efforts was thwarted by the Filipino. After the bout a distraught Barrera expressed his desire to retire from boxing a second time.
On the 26th August 2008 Barrera, at 35, ended his brief retirement, and signed a five year contract with promoter Don King and moved to the Lightweight division, his goal to become the first Mexican ever, to win a World Championship at four different weights.
The 7th December 2008, marked Barrera's return to the ring, in Chengdu, China, where he secured his first win, as a Lightweight, by knocking out Sammy Ventura.
It was announced on the 15th January 2009 that Barrera's next fight would see him travel to the UK to face the highly rated Amir Khan, at the MEN Arena on the 14th March. Even with Barrera being in the twilight years of his career this was still viewed as the toughest test of young Khan's career to date.
Barrera lost the bout by a dubious fifth-round technical decision – the two fighters clashed heads in the first round, resulting in a deep gash above Barrera's forehead. Throughout the bout blood flowed from the cut and even though the referee could have called a halt to the proceedings anytime he left it until the beginning of the fifth to summon the ringside doctor. Immediately the doctor stopped the fight due to the severity of the cut, The judges scored the fight 50-45, 50-45, and 50-44 for Khan at the point of stoppage and he was declared the winner by technical decision.
It would not be until the 26th June 2010 that Barrera would fight again, where he faced Brazil's Adailton de Jesus in a non-Championship ten rounder at the Alamodome, San Antonio, Texas. Barrera dominated De Jesus for every single round to secure victory.
In his last bout, on 12th February 2011, Barrera beat Jose Arias, of the Dominican Republic by a second round TKO.
Whilst it's not clear whether that fight brings to a close Barrera's magnificent career, one thing is clear that Marco Antonio Barrera has earned the right to be known as one of the greatest boxers of his generation, something that makes this opportunity presented by Carl Greaves, a can't miss one, especially as those attending will not only get the to meet and chat with Barrera but will also have the opportunity to be photographed with him.
Not just that though, those attending will also get to sit down at the dinner table with the great man himself, and other star guests, for a two course meal as well as further evening entertainment, in the form of a comedian.
Carl Greaves is really doing the fans proud yet again, especially as the cost of attending 'An Evening With Marco Antonio Barrera' is just £75 per person – Tickets available on-line at www.tkoboxoffice.com