English Super Middleweight Champion Paul David has upped sticks and moved to London, after signing management papers with renowned manager/coach Johnny Eames and switching his training to the TRAD TKO Gym in Canning Town.
Paul, who won the English title via a seventh round knockout of Tyrone Wright in December 2008, is without doubt one of the most talented, as well as the most avoided, Super Middleweights on the European circuit and is clearly hopeful that the move to London may present him some new opportunities.
"I'm really enjoying being part of the TRAD TKO team. I've been coming here for a few weeks now and it's been going well.
I've been sparring the Cruisers here, you know Leon Williams and the other big guys here, Mitchell Balker, from the Netherlands, and Paul (Menay) Edwards.
There's a lot of the bigger guys up here but I'm just using my elusive style to get my way around the ring. So it's good and the training's like hard and physical and I'm going to have no problem getting down to Super Middle.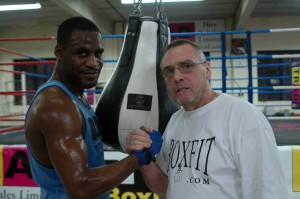 I should have been fighting Patrick Mendy but there were no purse bids so Johnny is looking for other fights for me. I don't care who or where I fight so hopefully it wont be too long before my next fight.
I'm just ready to the business."
Johnny Eames is more than a little aware of the problems of getting fights for such a feared fighter, but seems confident that he may be able to get Paul in contention to challenge the likes of current British and Commonwealth Champion George Groves, European Champion James DeGale, even if it means via a title eliminator against his close friend, former British Champion Paul Smith, as he made clear when he spoke earlier.
"I came across Paul a couple of years ago, I was offered him as an opponent for Tony Oakey, but I see him beat a fighter who became one of my fighters, Peter Haymer, so I didn't fancy him as the right fighter for Tony at the time – he may have beat him, he may not, we'll never know.
He's a very awkward fighter, typical Ingles style, but better than a lot of Ingles fighters. He's a Ryan Rhodes type of Ingles fighter who can do it. There's a lot of the boys that come out of Sheffield that imitate the style but can't perfect it, but Paul is certainly one of those that has perfected it and I can understand why so many fighters avoid fighting him.
He's been sparring with Leon (Williams), Mitchell Balker and Paul Edwards amongst others and seeing him in sparring has changed my opinion on that style, I normally don't like that style, it's not the sort of style you want your fighters to fight against.
But he's already got a little bit of us in there, so I really think we can really do something with this kid, if we are allowed to. There's a lot of promoters out there that aren't willing to put their top fighters in with Paul because they know he'll beat them.
He's English Champion and the usual follow on from being English Champion is the British title. I'd like to think he is more than capable of going in with Georgie Groves, James DeGale and a very good friend of mine Paul Smith.
That aside, it's business and as Paul's manager it's my job to see that he gets the opportunity to go in with these kids and I will be doing everything I can to see that he does."
www.tkoboxinggym.com