After six months without a fight, London based Dutch Cruiserweight Mitchell Balker finally gets the chance to return to the fray at Spencer Fearon's Hard Knocks Promotions first event of the year, Shamrock Showdown II, at The Troxy in Limehouse, London on the 23rd March.
Ever since Balker relocated to the UK, to train at the TRAD TKO Boxing Gym in Canning Town, his manager Johnny Eames has found it hard to secure his talented charge any bouts, especially after word got out that prior to turning pro that Balker had traveled to America to take part in, and win, the prestigious New York Golden Gloves tournament at the famous Madison Square Gardens.
However finding fights for the Dutch #1 here in the UK was made virtually impossible following a sensation against the odds victory over World ranked Blackpool based Slovakian knockout maestro Richard Turba back in August last year, which unsurprisingly rocketed Balker to the top of the domestic Cruiserweights 'Fighters to Avoid' list.
Things now look set to change for Balker though, as the aforementioned Spencer Fearon was so impressed by the Dutchman's never say die attitude, as well as the victory over Turba, that he decided to add him to upcoming Premier Sports (Sky platform Ch 433) televised show, and true to form matched him in a genuine 50/50 fight against unbeaten Leeds hardman China Clarke.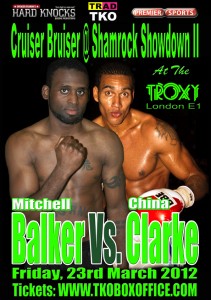 Following yet another sparring war, with former British Cruiserweight Champion Leon 'Solid' Williams and Caine Brodie, a jubilant Balker said, "I feel very good and very excited about it, you know I'm always ready, so let's do it.
I know nothing about my opponent, Spencer (Promoter Spencer Fearon) told me there is an opponent, China Clarke, so there is an opponent so we are going to have a fight and we're going to make a special fight for the fans, and the TV, as they haven't seen me fight for so long.
Even when there was no fight coming up I still stay in the gym, training and sparring, so I am always ready, my manager Johnny (Eames) and trainer Barry (Smith) make sure of that.
I have been sparring Leon (Williams) Caine (Brodie) and Paul (David) a lot, it's the best preparation I could hope for, Leon was British Champion, Paul is the English Champion and Caine is a tough competitor at any time, so it's good hard sparring with three of the best fighters in the UK.
Knowing Spencer it will be a hard fight, a 50-50 fight, but to me It's a very special fight, my first with Hard Knocks and Premier Sports, so I will be really up for it and looking to win big."
Mitchell Balker versus China Clarke will feature on the support card of Choi Tseveenpurev's challenge for the vacant WBC Silver International Featherweight title at Spencer Fearon's Hard Knocks Boxing Promotions 'Shamrock Showdown II' event at the Troxy in Limehouse, London on Friday 23rd March and broadcast live on Premier Sports (Sky platform Ch 433)
Tickets, priced £35 are available on-line now at www.tkoboxoffice.com or in person at the TRAD TKO Boxing Gym, Gillian House, Stephenson Street, Canning Town, London E16 4SA