Bad Boy Promotions head honcho Chrissy Morton has a passion for boxing, so much so that she gave up a lucrative career in the City to focus on promoting boxing events. Not just any boxing events though, Chrissy's passion is the White Collar Boxing phenomenon that has swept like wildfire throughout the financial districts Worldwide over the past decade or so.
What makes White Collar Boxing stand apart from the Amateur and Professional scene is that those taking part don't come from a boxing background, mostly they work in the City by day wheeling and dealing on the financial markets or practising law.
Those working in the City tend to be competitive by nature, as such it shouldn't come come as any surprise that to 'relax' they would choose something competitive like White Collar Boxing.
Which is exactly why back in 1988 the founding protagonists, New York attorney Dr. Richard Novak and Dr. David Lawrence, who held a Phd. in English, decided upon the challenge of a boxing contest, which took place at the famed Gleason's Gym in Brooklyn, NY.
There was no bet as such, it was purely in order to 'test themselves' and then after the contest the two Gentlemen went to dinner to celebrate the birth of a new sport.
The news of the contest spread and soon after there were White Collar boxing events taking place throughout the World financial centres, especially London which now has a thriving White Collar Boxing scene, which brings us nicely back to Chrissy Morton and her Bad Boy Promotions organisation.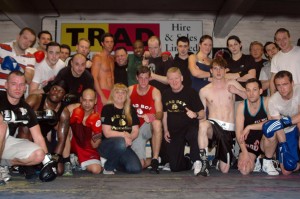 Already having a couple of successful events under her belt Chrissy's has stepped things up for her next all action White Collar Boxing event , titled 'This Is It', which will take place just a stones throw from the City and Canary Wharf, at the Troxy in Limehouse, London, on Friday 30th March 2012.
Not only has Chrissy taken the training of her weekend warriors to a more professional level, by moving her training to London's premier pro boxing gym, the famous TRAD TKO Boxing Gym, in Canning Town deep in the heart of London's East End, but she has also attracted stars from the World of Athletics and Music to participate in the show.
Following one of the training sessions Chrissy spoke of her passion for the sport and her upcoming 30th March event, "I've always loved boxing, I've always watched it.
I fell into this by mistake after one of the guys on the trading floor was having a White Collar fight and we all wanted to go. However he was only allocated one table so most of us couldn't go.
After that we decided to do our own show, which we did in the middle of the City in Liverpool Street and that's where it all started.
My next show will be on the 30th March at the Troxy. We'll have around twenty four bouts, mainly it will be guys boxing but we do have a few female bouts as well.
Some of the bouts will be grudge matches, against the infamous 'Essex Boys' from Hornchurch.
This came about after some of their boys came to our last show and lay down a challenge and it built up from there. At this event we'll have eight belts that are going to be fought for in the Bad Boy Promotions Vs. Essex Boys Challenge.
I've got quite a few good White Collar Boxers, our number one is belt holder Joey Jenkins, he's a Diamond broker in Canary Wharf. He's very good and has fought for me a couple of times and has knocked out two opponents.
Also have some celebrities boxing including rapper Dat Boy Fresh, with his career taking off I don't know why he wants to box but he wants to put his hand in so I'm not complaining.
On the girl's side we have five bouts – an Olympic high jumper, a couple of secretaries, a dancer and a vet will all be having their first fights on the show.
This event will be the first since we changed our training base. We used to train at a little gym in East London but it was too small and crowded so we had to move. For this event we spoke with Johnny Eames and he agreed to let us train at the TRAD TKO Boxing Gym in Canning Town.
The fighters got so excited to be training alongside top pros at the top pro boxing gym in the Country. The pro fighters have been great and have also been giving our fighters advise. Some of the TKO fighters, including Frankie Buglioni and Dean Byrne, are going to be coming along to the show to support my fighters which is great.
All's looking good at the moment, we've sold a lot of tickets and I expect it to be a full house on the night.
Now we train in a pro boxing environment, I'm sure that not only will 'This Is It' be one seriously great all action show but will also be the standard that all future White Collar Boxing events will be judged."
The Bad Boy Promotions 'This Is It' event takes place at the Troxy in Limehouse, London on Friday, 30th March 2012.
Tickets for Bad Boy Promotions 'This Is It' event have been selling well and as such limited tickets priced, VIP Ringside (SOLD OUT), VIP Silver (SOLD OUT), VIP Bronze (SOLD OUT), Downstairs Seating £30, Upper Circle Table £25 and Upper Circle £20, are available on-line at www.tkoboxoffice.com and www.badboyspromotions.co.uk or in person at the TRAD TKO Boxing Gym, Gillian House, Stephenson Street, Canning Town, London E16 4SA.