After just three professional outings Canning Town Cruiserweight prospect Wadi 'Machoman' Camacho gets the chance to shine on the national stage this coming Wednesday, when he takes part in a Prizefighter Prospects bout that supports the latest installment of the highly successful Skysports televised Betfair Prizefighter series.
Camacho, who is managed and trained by Brian Lawrence at the TRAD TKO Boxing Gym in Canning Town, earned the coveted 'Prospects' spot following his crowd pleasing, winning, performances against Ireland based Ugandan Moses Matovu in January, a sensational second round stoppage of Lithuanian hardman Rolandas Cesna in March and just last month his supreme domination of Lithuanian Igor Borucha.
Following his final training session last night, a relaxed Camacho said, "I'm so looking forward to it, it's good to be allowed to fight on a big stage, so it's gonna be bombs away really.
My first fight was a bit tough but I dealt with the guy on the night, the same with my other two, this one may be even tougher.
This kid'll be coming to impress also, you don't get that many opportunities when you first start out to be on such a big televised show. He'll be coming to fight, but I'll just do the business on him also.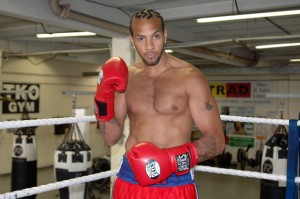 I know it's early days but I've only got eyes for one thing. One day I want the Lonsdale Belt round my waist. I know if that is to happen I have to fight every fight as if it's a title fight, I have to win and I have to impress.
Brian, (Manager/Coach Brian Lawrence) has a pedigree of producing Champions, if I keep on winning, hopefully he'll get me a shot next year, or the year after, but right now though it's still a learning process and I have to still prove myself.
The way my preparations have gone, the training and the sparring, it's been excellent. My power has really increased, it's unbelievable and my weight is fantastic, you know, I'm weighing 14-8 now, I've comfortably come down from 15-6, which is spot on.
To all my fans can I say – Enjoy the night, I tell you all the time, I'm a cool guy and I will be showering big bombs on the night."
Wadi Camacho versus Paul Morris features as support to the Matchroom Sport promoted Betfair Prizefighter – International Heavyweights tournament, which takes place at York Hall in Bethnal Green on Wednesday 20th June 2012, and is broadcast live and exclusive on Skysports.