Manny Pacquiao stepped out of the ring today and on to the blacktop … where he took on TWO basketball legends at the same damn time.
TMZ has obtained a photo of Manny ballin' around with NBA gods Charles Barkley and Reggie Miller.
We're told the guys had been training all day long — including a trail run in Griffith Park — before they decided to hit a local court for a shootaround session.
Sources tell us cameras documented the entire thing for an upcoming special on TNT.
We called Reggie Miller about the workout … who told us Manny definitely got game — "Not only is he the man in the ring, but he's got an awesome jump shot too."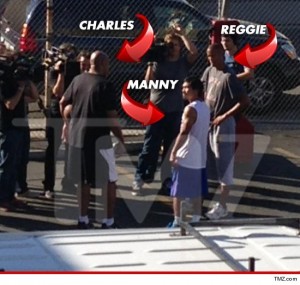 Article provided by TMZ
Read more: http://www.tmz.com/2012/11/12/manny-pacquiao-charles-barkley-reggie-miller/#ixzz2C4JxJA7b